Job With a Twist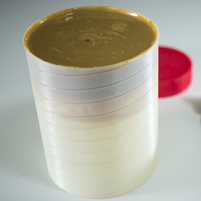 Jar With A Twist
Stephen Smith has found a twist to a sticky situation.

Smith, a systems engineer, already has started one company and hopes to revolutionize the food industry by making it easier to clean out peanut butter jars and other food containers.

But he came to Carnegie Mellon University for graduate school to continue to hone his technical and entrepreneurial skills for bigger ideas down the road. Smith is one of the many students who will participate in activities related to Global Entrepreneurship Week (Nov. 17–21).

"The amount of knowledge here related to entrepreneurship is just wonderful," said Smith, who is studying in the Master of Science Robotics Systems Development (MRSD) program.

The MRSD is a "techno-business" degree that draws expertise from the School of Computer Science's Robotics Institute, the Tepper School of Business and the Heinz College. The MRSD curriculum provides a broad education in the sciences and technologies of robotics, reinforces theory through hands-on laboratory projects and exposes students to practical business principles and skills.

Graduates are being trained to go on to roles such as chief technology officers and other executive roles at companies.

"We give them the tools and vocabulary and make them aware of how the world really works so they can hit the ground running much, much faster," said MRSD Director Hagen Schempf. He said it was important for engineers who serve as executives to understand about managing processes, technology and people.

"It's always great to see our graduates make it big, whether they are entrepreneurs or in any kind of leadership role," Schempf said.

As an undergraduate at North Carolina State University, Smith spent a summer interning in Howie Choset's lab at the Robotics Institute working on autonomous snake robots.
 
"It was really inspiring to see his spinoff," Smith said, referring to Medrobotics, a company Choset helped found that applies snake robot technology to surgical instruments.

As CEO of Jar With a Twist, Smith is working to find vendors interested in using the next-generation container, which uses a screw thread to move the contents of the jar to the top.

This won't be his last company.

"This is helping to get my entrepreneurial feet under me. I started very young and learned a lot of things," he said. "I'm hoping to have a robotics company further down the road."

As part of his studies, Smith is working on prototyping a system to paint athletic fields. Once complete, he and classmates will develop a business case for selling the system.

"Robotic mowers are easy, but the painting is very specific and can take two to four hours of manual labor," he said.

In addition, Smith is a James R. Swartz Entrepreneurial Fellow. The core of the Swartz Fellows program is a mentored summer internship with a top-tier, VC-backed startup in Silicon Valley. It is a part of CMU's Center for Innovation and Entrepreneurship.

"The Swartz Fellow program helps attract people from all around the world to come to Carnegie Mellon — which helps us achieve our goal of being the destination of choice for aspiring entrepreneurs," said Dave Mawhinney, CIE co-director. "Stephen is a great example of this."

Related Links: Global Entrepreneurship Week | Master of Science Robotics Systems Development
---