Reinventing the World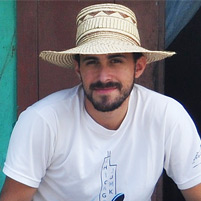 Daniel Schnitzer
Carnegie Mellon University's Daniel Schnitzer is helping to reinvent the world.

That's the headline describing his recent honor as one of Forbes Magazine's innovators in its "30 Under 30" listing of tomorrow's brightest stars.

Schnitzer, 27, a Ph.D. student in CMU's Department of Engineering and Public Policy (EPP), is one of 30 entrepreneurs under age 30 featured in the magazine's January feature about impressive up-and-comers in the energy sector.

The list was compiled by Forbes readers and a star-studded panel of industry experts.

"Being named on the Forbes 30 Under 30 list for energy was humbling and a tremendous honor. It's validating to see EarthSpark's work in Haiti being recognized in such a way," said Schnitzer, co-founder and executive director of EarthSpark International.

Haitians use more than 10 percent of their household incomes on lighting, which is 20 times what the average U.S. household spends.

Working in Haiti, Schnitzer's EarthSpark International creates retail businesses that sell inexpensive solar lighting products and energy-efficient stoves.

The CMU grad student's organization also developed a pay-as-you-go "micro-grid" electric system that has been serving customers with 24-hour electricity since December 2012. More such grids are being planned.

"We are so proud of Dan as he continues to develop problem-solving solutions for a wide range of energy-related challenges in rural communities worldwide," said University Professor M. Granger Morgan, EPP head and director of CMU's newly launched Wilton E. Scott Institute for Energy Innovation.

CMU is well known for its entrepreneurial culture. The university's Greenlighting Startups initiative is uniquely designed to support new business creation such as Schnitzer's EarthSpark.

Schnitzer also was recognized for his efforts by President Bill Clinton's Clinton Global Initiative in 2010, which convenes global leaders to devise and implement innovative solutions to some of the world's most pressing challenges. CMU student Bret Pearl (A'15) and his sister's furniture project in Haiti was recognized by former President Clinton in 2012.
 
Following the devastating earthquake that struck Haiti in 2010, EarthSpark distributed more than 8,000 solar lamps to women and girls in displaced persons camps in Haiti.

Greenlighting Startups is uniquely designed to support CMU's culture of entrepreneurship and new business creation. Learn more »
Related Links: TED Talk: Inventing is the Easy Part | Scott Institute for Energy Innovation | Greenlighting Startups | EarthSpark International | Engineering and Public Policy
---