Illuminating a Start-up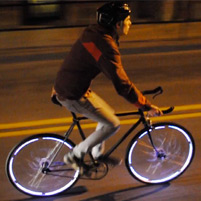 Project Aura started as an intriguing student industrial design concept — illuminating the wheels of a moving bicycle, attractively increasing visibility and safety. Now, to the creators' surprise — and thanks to the Carnegie Mellon University entrepreneurial culture — seniors Ethan Frier (A'13) and Jonathan Ota (A'13) are the co-founders of a start-up.

Amid a field of 150 competitors, they recently won the Business Bout, a business plan competition sponsored by Thrill Mill, an entrepreneurial non-profit co-founded by Luke Skurman, College Prowler co-founder and CMU trustee.

Project Aura began two years ago. While exploring their illuminating idea, the two industrial design students — both bicycle commuters — applied for and received a CMU Student Undergraduate Research Grant (SURG). SURG grants are funded by donor contributions to support undergraduate research in all fields of study.

The pair produced a prototype, and as a final step posted a video of the rudimentary product in use. Against the backdrop of night, two glowing bicycle wheels are seen whizzing through the dark, changing from red to white with increasing speed.

110,000 views and a Core77 Design Award later, Ota and Frier knew they were on to something.

They connected with Project Olympus, part of CMU's Greenlighting Startups initiative, a consortium of campus incubators designed to provide young entrepreneurs key resources for success, turning campus innovations into sustainable new businesses.

"We never intended to start a business," Frier remarked. "We did a project that turned into a product then into a business. But while we felt very comfortable with the design element, neither Jonathan nor I knew anything about how to handle running a business. Kit Needham and Project Olympus have been really helpful in holding our hands and guiding us down that path."

Both Ota and Frier had come to Carnegie Mellon — from California and Maryland, respectively — for its renowned industrial design program, as well as the university's interdisciplinary focus and capabilities. Accordingly, they've brought engineering students on board to address the company's technological needs.

With a second SURG grant, the product evolved into a battery powered, digitally controlled system of bike rim LEDs, allowing for greater color possibilities.

"We're looking into ways that cyclists can communicate with drivers through lights, because most accidents are caused by a lack of communication between rider and driver," explained Ota. "Cars have a very distinct lighting language, with headlights and taillights, etc. Similarly, we're trying to develop a new lighting language for bicycles."

"By illuminating the wheels, you're instinctively broadcasting that you're a bicycle," added Frier. "You're better communicating what you are and what you're doing to the drivers, and then inherently it's a safer activity. It's also really awesome looking, a beautifully designed product. A safety product that's ugly won't be effective because people won't use it."

Aura has also become the pair's senior thesis project.

"The School of Design has been incredibly supportive," noted Frier. "A number of advisors are helping us out, including Gill Wildman, Nick Durrant and Stephen Stadelmeier."

Frier and Ota plan to use the $25,000 Business Bout prize and one year membership to Thrill Mill's incubator, Hustle Den, to further develop their prototype and grow their new company after graduation.

Their advice to start-up-minded students?

"Don't let school be an excuse to not try out an idea, because we have so many resources we can access here as CMU students," Ota stressed. "Now that I'm ready to graduate, I'm reluctant to give up all the resources I've come to rely on. CMU is a great learning experience because you learn so much more than what you're taught in class."

Greenlighting Startups is uniquely designed to support CMU's culture of entrepreneurship and new business creation. Learn more »
Related Links: School of Design | Project Olympus | Greenlighting Startups | Aura of Success
---