Welcome, Class of 2017!
Orientation 2013 Slideshow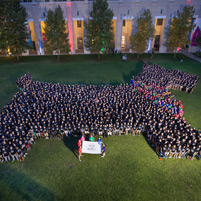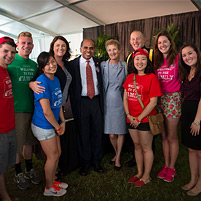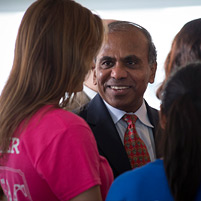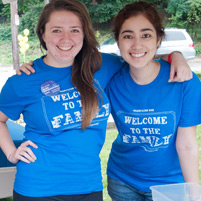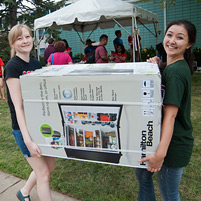 They are among the best and brightest of this year's high school graduates. Over the next four years, Carnegie Mellon University will prepare them to solve a broad range of the world's many challenges.

But first, CMU's Class of 2017 is spending a week immersed in a whirlwind of activities in Pittsburgh and Qatar designed to help them get to know their university and, most importantly, each other.
 
In his welcome address on Sunday to first year students and their families, President Subra Suresh noted that "If you look at all the grand challenges that face the world today, they are not only technology challenges, but also human challenges. CMU is uniquely positioned to bridge that gulf between technology on the one hand and humanity on the other, to solve these problems. There is no other institution that has the rich history and accomplished record to do this."
 
In a special note to parents, he referred to the list of CMU alumni who have won some of the world's most prestigious awards, ranging from Nobels and Turing awards, to Academy and Tony Awards.  

"Based on the evidence, there is good probability that your son or daughter will someday be added to this list. Whatever they do, we know that they will be successful. They are in very capable hands here."
 
Among the highlights of Pittsburgh's Orientation Week is Playfair — billed as "the biggest icebreaker ever" — where students and staff gather on "The Cut," the grassy area outside the University Center, for games, activities and mingling.

Over the summer, incoming students were sent a copy of the late CMU alumnus and computer science professor Randy Pausch's book "The Last Lecture." On Tuesday, students will meet in small groups led by faculty and staff mentors to discuss the book, college, life and what it means to "really achieve your childhood dreams."

A Zero-Waste Dinner will showcase the importance of green practices at the university and students will have an opportunity to chat with the Greek community over desserts at a Greek Gala.

Students will attend advising and information sessions on topics ranging from undergraduate research at CMU, study abroad opportunities and how to find an off-campus job to decision-making in relationships, computing help and student organizations across campus.

The week closes with a Gateway Clipper Cruise, Casino Night with Ballroom Dancing and a little friendly competition, a.k.a. "wars," between houses.

Carnegie Mellon University in Qatar also will be hosting orientation activities as they welcome more than 100 first-year undergrads to CMU's Doha campus. Similar activities will be occurring in Australia, Rwanda, Silicon Valley and other CMU programs around the world.
 
At the Pittsburgh campus, the Class of 2017 is comprised of approximately 1,430 students from 43 countries and 44 states, Washington, D.C. and Puerto Rico.
 
Seventy-eight of them were the top-ranked student in their class and 241 of them graduated high school with a 4.0 grade point average. This year's class is one of the most diverse in CMU history, with 44 percent female, 15 percent underrepresented minorities and 17 percent from outside the United States.

At the Doha campus, the Class of 2017 is comprised of more than 100 students from one dozen countries.
 
At CMU — a global research university recognized for its innovative arts, sciences, business and technology programs — all of these bright minds will work side-by-side with our award-winning faculty as they learn, create and conceive new ideas and innovations that could change the world.
 
We can't wait to see what happens next.
Related Links: Orientation 2013 | The Little Brag Book | CMU Traditions | About Randy Pausch | Carnegie Mellon in Qatar
---