Fingertip Convenience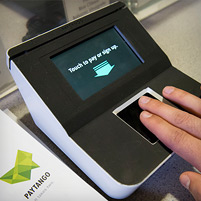 A PayTango terminal in use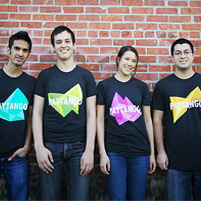 [l-r] Umang Patel, Brian Groudan, Kelly Lau-Kee, Christian Reyes
Standing in a jostling line with sloshing, steaming coffee in hand, ever wish you could pay with just the touch of your fingers? A team of enterprising Carnegie Mellon University students who founded startup PayTango have made this wish a reality.

PayTango, a fingerprint-based identification and payment system, allows users to keep their mountains of magnetic card information at their literal fingertips. Registration takes mere seconds — place two fingers on the terminal's fingerpad, swipe your card, and enter a phone number. Payment? Just fingers on the pad. Better yet, the service is free to users.

And the startup is getting attention from media, as well. Inc. magazine recently named PayTango one of its 12 "America's Coolest College Startups" for 2013.

The four CMU seniors — Brian Groudan, Kelly Lau-Kee, Umang Patel and Christian Reyes — developed PayTango during last fall's Tech Startup Lab, a new course run by Luis von Ahn, assistant professor of computer science and creator of reCAPTCHA.

With double majors that included information systems (IS), human computer interaction (HCI) and industrial design, the students combined their ideas for consolidating credit cards with human-computer interaction techniques.

"We thought, 'Why should you have to carry something at all?'" explained Reyes of their unique biometric product. "You should be able to do these things just by being yourself."

The whirlwind that followed shocked even the team members themselves, as within months, they won hackathon awards and were accepted and seed-funded by Y-Combinator, a well-known Silicon Valley startup accelerator. Three members moved to California in January for the three-month program that culminated yesterday in a Demo Day for larger investor funding.

"The Tech Startup Lab was based on progress," said Reyes. "While some teams set goals like acquiring a number of users, Umang said 'Let's get funded by the end of the semester.' The rest of the team initially thought he was crazy but we made it happen." 

PayTango's pilot, conducted at a CMU dining facility, was limited to 100 student users and filled up within hours. After gathering feedback for product improvement, Dining Services and PayTango expanded to three campus dining locations and open enrollment for any student currently on a meal plan or enrolled in a flexible spending account. They hope to expand within the next year to other campuses, fitness facilities and retailers.

The team members feel indebted to Carnegie Mellon in numerous ways, including the discovery that they could become entrepreneurs — even as college students.

"I'd actually never even been involved in technology until I got to CMU," said Groudan. "I found I wanted to do something that combined technology and creativity — that's why I double majored in IS and HCI. And then there's the Tech Startup Lab. I definitely owe a lot to the university for exposing me to the possibilities."

They are also quick to also point out the "amazing" flexibility of the IS department in course scheduling, the "awesome" support of Housing and Dining Services staff who "were the start of really believing in us," the numerous researchers and mentors across campus who often gave personal cell phones to provide help, the CMU alumni network who "were the first people we went to" on the West Coast, and the CMU students who "stuck with us from the beginning and gave us feedback to help us improve."

Added Lau-Kee, "The sheer expertise — you can't get this anywhere else. To just go across the campus to the biometrics center, to design, engineering and more. All these interdisciplinary factors were integrated in our product. We were helped by so many experts, and that was how we were able to become experts ourselves."

"I think CMU has helped us in every way possible," stressed Groudan. "The resources and the people, we've had so many mentors along the way.  Even the team formation, the ability to bring all our different skills together. A company like ours probably couldn't have been started like this at any other university."

Greenlighting Startups is uniquely designed to support CMU's culture of entrepreneurship and new business creation.
Learn more »
Related Links: Dietrich College | School of Design | School of Computer Science | Human-Computer Interaction Institute
---