Congrats, 2013 Graduates!
Commencement Speaker Playlist on YouTube
Commencement Gallery on Flickr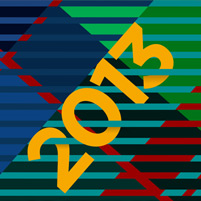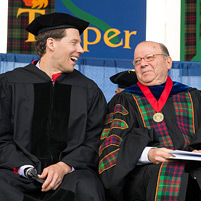 Aron Ralston & President Jared L. Cohon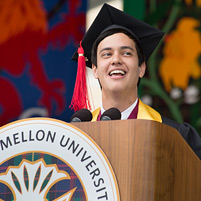 Student speaker Brian Groudan
This weekend, at Carnegie Mellon University's 116th Commencement Ceremony, more than 4,200 students joined the ranks of the many outstanding Carnegie Mellon University alumni making an impact in the world.

Alumnus Aron Ralston (E'97), who saved his own life while trapped in a Utah canyon, and CMU President Jared L. Cohon, who is stepping down on June 30, gave keynote addresses.

During his 16-year tenure, Cohon guided the university to unprecedented success and growth as a global university.

Addressing the class of 2013, Cohon remarked, "I figured back in 1997 that I had 16 years to get ready for all of you graduating today: the Harry Potter, South Park, tech-savvy, Star Wars, Men in Black generation. People who are genuine, committed, open, smart and caring. So, I got busy."

While noting that CMU has changed quite a bit during his tenure, Cohon pointed out that "what is more important is what hasn't changed in these 16 years. That is, our core values as a university: problem-solving, hard work, innovation and collaboration. These are well-known to you. These values have infused your experiences here, and they will be guideposts and important touchstones for you throughout your lives."

This year marked the 10-year anniversary of Aron Ralston's rescue after six days alone in the Utah desert with his arm trapped under a boulder.

"Many of our faculty and staff, who knew Aron during his time as a student leader here, know he is a young man whose intellect, character, curiosity, humor and determination embody the very best of this university," Cohon said of Ralston, whose book, "Between a Rock and a Hard Place," was made into the Oscar-nominated Hollywood movie "127 Hours."

"I am profoundly humbled to be joining you today at this unparalleled place — Carnegie Mellon," Ralston said. "It's truly an extraordinary university that's home to buggy races, the Fence, and even a self-piloting SUV that I think has taught itself to play the bagpipes."

Referring to the courage it took to amputate his own arm, Ralston said, "If you doubt for one second that you would do it for yourself, ask: what wouldn't you do to get back home to your closest loved ones."

Sharing memories of his rescue, Ralston pointed out that the will to love triumphs the will to live.

"Because the will to love says we're not just here on this earth to enrich our own lives; we're here to enrich the lives of others. So get out there and save the world."

This year's student speaker was Brian Groudan, who earned his degree with majors in information systems and human-computer interaction and a minor in communication design. He is a co-founder of PayTango, a fingerprint-based payment and identification system that debuted on the Pittsburgh campus and has garnered headlines across the United States.

"A special thank you to President Cohon for making it part of his mission to build a community where learning meets entrepreneurship," Groudan said. "Carnegie Mellon faculty and alumni were the first people we [PayTango] turned to for advice. I'm so grateful to each and every one of you who have helped us along the way."

Encouraging his fellow students to pay forward their successes, Groudan said, "We have already chosen to be among the explorers and inventors, the creators and leaders, the perpetually enchanted, the ones who will never cease to be amazed by the wonders of our world."

Six were conferred with honorary degrees during the ceremony in recognition of being exemplary leaders whose life and work serve as an inspiration for CMU students, faculty and staff. The diversity of this year's candidates represented the intersection of business, technology and the arts, a university hallmark, and they included:
Jules Fisher, a Tony Award-winning lighting designer and producer, received a Doctor of Fine Arts. He is a 1960 graduate of CMU's College of Fine Arts.
Charles M. Geschke, a renowned software industry leader who is co-founder and chairman of the board of Adobe Systems, Inc., was awarded a Doctor of Science and Technology. He is a 1973 graduate of CMU's Mellon College of Science.
Mark A. Nordenberg, chancellor and distinguished service professor of law at the University of Pittsburgh, was presented with a Doctor of Humane Letters.
Ratan N. Tata, an esteemed international business leader who is chairman of the Tata Trusts, received a Doctor of Business Practice.
Charles M. Vest, president of the National Academy of Engineering and president emeritus of the Massachusetts Institute of Technology, was awarded a Doctor of Science and Technology.
Board of Trustees Chairman Ray Lane surprised Cohon when he interrupted the ceremony to call Provost Mark Kamlet back to the podium. Kamlet announced that the university was also awarding Cohon with a Doctor of Humane Letters.
Learn more about the honorary degree recipients on the commencement website »

Watch the archived commencement ceremony webcast »
Related Links: A Legacy of Leadership | 127 Hours | Commencement Website | Watch the webcast | Career & Professional Development Center
---