LaunchCMU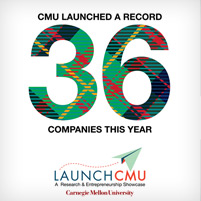 With all of the choices in today's energy market, a new Carnegie Mellon University startup is helping residential consumers understand their choices.

Lumator's mission is to help consumers reap the benefits of deregulated markets. The team of computer scientists and MBA graduates is using technology developed in the Machine Learning department.

The startup is just one of a record 36 startups produced by CMU's award-winning professors and students in 2013.

CMU President Subra Suresh revealed the record and highlighted the startups' accomplishments at LaunchCMU, a research and entrepreneurial showcase presented by the university's Center for Innovation and Entrepreneurship (CIE).

He said the university studies that show that CMU has spun off more startup companies per dollar of federal research money spent, than any other university in the country.

"This is a remarkable statistic," Suresh said. "This is literally bang for the buck."

In 2012, CMU was one of the five top universities in the country to attract venture capital funding.

"Given the fact that CMU is not located in a metropolitan area on the coast, it's a remarkable achievement," President Suresh said. "There are much bigger universities, universities with medical schools on either coast, where there is a much bigger venture capital cohort."

Alumnus Bruce McWilliams, chairman of the Research and Technology Commercialization Committee of CMU's board of trustees, kicked off the event by acknowledging the role of the CIE and CMU's Center for Technology Transfer and Enterprise Creation in helping faculty, students and alumni launch new ventures. 

"Carnegie Mellon has shown that innovation can be encouraged and strengthened. Through streamlined university policies and investment in support for faculty and students with interests in entrepreneurship, the university is expanding its impact and creating an example for other research institutions around the world," said McWilliams, president and chief executive officer of SuVolta Inc.

The first LaunchCMU event took place in Silicon Valley in May. Lumator was among the companies who were introduced then.

"We were very fortunate to have shared the stage at the inaugural LaunchCMU event," said Lumator CEO Prashant Reddy (CS'13). "It was fantastic to see heads nodding during my pitch and to find out afterwards that they belonged to some very prominent investors.

"Combining faculty research talks with startup pitches attracted an audience that was able to engage deeply in Q&A on the technical aspects of Lumator during the breakout sessions," Reddy said. "The insight I gained there has helped us refine Lumator's business model and get product to market quicker than we had planned."

More than 1,000 companies across industries such as robotics, software applications, energy, health care and finance have had roots at CMU. These companies create jobs across the United States and internationally, with the highest concentrations in Pittsburgh, Silicon Valley and India.

This year's startups include:
PECA Labs, a medical device company that has developed a heart valve with the potential to save thousands of children from undergoing repeated open heart surgeries;
PieceMaker Technologies, a company marketing the PieceMaker 3D printer, software and support services to allow stores to print and deliver goods on demand; and
SolePower LLC, a company commercializing power-generating shoe insoles for charging portable electronics such as cellphones and GPS devices.
Other commercialized technologies created by CMU companies over the past five years include Duolingo, an app with which people can learn languages for free while simultaneously translating on the Web; and intelligent and adaptive traffic signals being developed by Surtrac, Inc. to cut down on congestion, saving people time in traffic and reducing auto emissions.
"In the coming days, weeks and months, we hope to provide additional information on how CMU will build on — and hopefully significantly expand on —  the entrepreneurial culture of this place not only for the benefit of CMU but for the benefit of the region," Dr. Suresh said.
CMU is celebrating the inauguration of Dr. Suresh with symposia throughout the year. In April, a
symposium
will take place in Washington, D.C., with the theme "The University and Regional Economic Development." As universities such as CMU become more global in focus, they also have an important role to play in regional economic development. This panel will explore the ways in which universities can drive job growth and company creation on a local and national scale. Follow the conversation on Twitter with
#CMUsuresh
.
Related Links: Read press release | Media Advisory: Carnegie Mellon Debuts Semiannual Research And Entrepreneurship Showcase: LaunchCMU | Breakthrough Funding | Center for Innovation and Entrepreneurship
---