TechSpark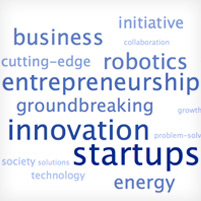 Carnegie Mellon University is leveling the playing field for startup companies to find good talent.

Through its new initiative TechSpark, the university aims to raise the profile of young businesses and emerging companies in the eyes of its top-notch students.

Mattie Whipple, director of human resources at the Chicago-based Braintree, said, "The event is significant — it's connecting some of the nation's brightest students interested in entrepreneurship, technology, and start-ups with companies that fit that profile."

Far from being a job fair, this unique networking experience lets students, alumni and employers engage in the kinds of in-depth conversations that lead to successful recruiting.  

"With TechSpark, we are moving away from the traditional methods of campus recruiting. We're creating an environment that allows these companies to deliver a message they feel resonates with the type of talent they're looking for," explained Wahab Owolabi, assistant director of employer development in CMU's Career & Professional Development Center. "The idea is to provide a platform that enables deeper connections."

Owalabi, the mastermind behind TechSpark, has high expectations for the event. So does Neil Soni (E'13), a junior biomedical and chemical engineering major.

"Start-up companies create a huge opportunity for students to have a big impact on a company," said Soni. "My personal experience with start-ups — like my own, The College People, and others I've been a part of — has been unbelievable and could not be replicated at a large company."

Keynote speaker Tony Berkman (S '88, TPR '98), managing director and CEO of Investment Research at ITG Inc., will set the tone for the evening. Berkman joined ITG in 2010 following its acquisition of Majestic Research Corp., a company he co-founded in 2002.

With 25 participating companies — including Living Social and CMU startup College Prowler — students can expect purposeful conversations with potential employers that could lead to something positive for all parties.

Soni reinforced that, "At a start-up, an intern or new hire could be pivotal in the development and success of the company."

Since 2004, CMU has doubled the number of start-up companies created by its faculty and students and now stands as one of the fastest growing entrepreneurial institutions in the United States.

CMU's "Greenlighting Startups" initiative is aimed at accelerating the university's already impressive record of turning campus innovations into sustainable new businesses.
Related Links: Greenlighting Startups | Don Jones Center for Entrepreneurship | CTTEC
---