Whiz Kid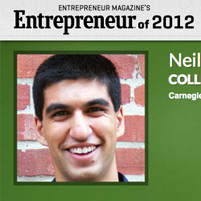 Neil Soni
Neil Soni (E'13) is an entrepreneurial whiz kid. He took the frequently asked questions of an inquisitive younger brother and turned them into an online startup — CollegeZen.com.

Now, anyone seeking advice about where to go to school can use this personalized platform for college searches.

Soni, a Carnegie Mellon University student majoring in chemical engineering, is one of five finalists vying for the title of Best Emerging 2012 Entrepreneur from Entrepreneur Magazine.

Show your support for Soni and CMU by voting for him as your favorite emerging entrepreneur finalist by Sept. 15. Winners will be announced later this semester.

"I'm so excited to be part of this unique competition, but I could not have done it without the support of CMU, the Pittsburgh community and our team," Soni said.

He teamed up with CMU peers Jonathan Bender, a senior in information systems; Kathryn Thomas, a senior in design; Hector Lo, a senior in chemical engineering; and math majors Brett Byler and Yihuan Zhou to create the social online platform, called CollegeZen.com, that can help high school seniors match personal interests to a particular college culture.

"In my own case, I selected CMU because of its collaborative, problem-solving environment where there are no boundaries for what you can and want to achieve," Soni said.

"What I have found through my business is that the happiness level at any college is not always determined by the academics, but by the opportunities available to students."

Soni has already experienced much success. Mentors and peers say Soni's entrepreneurial spirit gives him a competitive edge.

"Neil is a high potential entrepreneur. He and his partners recognized a real problem in the marketplace — choosing the best college fit for you — and are passionate about providing a unique and differentiated solution with CollegeZen," said David Mawhinney, executive director of the Donald H. Jones Center for Entrepreneurship at CMU's Tepper School of Business.

Through CMU's Greenlighting Startups initiative, the university provides entrepreneurs with the keys to success.

"At CMU, we provide an ecosystem of resources and mentors that help our faculty, students and alumni follow their entrepreneurial dreams. We are thrilled to be helping Neil achieve his dreams," said Mawhinney.  

Jim Jen, director of Alpha Lab, praised Soni for his professionalism and resilience. Soni received $25,000 in seed money from Alpha Lab, a South Side tech incubator founded by Innovation Works that has launched 51 companies since its inception in 2008.

"We see a lot of emerging entrepreneurs like Neil who have a desire to stay in the city where networking opportunities are on the rise, funding for good ideas is available and there's a supportive ecosystem for startups," Jen said.

Soni also lauded the university for its culture of innovative thinking, through programs like Project Olympus, part of the university's Greenlighting Startups initiative, which is designed to speed CMU faculty and student innovations from the research lab to the marketplace.

CMU's entrepreneurial culture has helped create more than 300 companies and 9,000 jobs in the past 15 years.

Greenlighting Startups is uniquely designed to support CMU's culture of entrepreneurship and new business creation. Learn more »
Related Links: College of Engineering | Greenlighting Startups | College Zen | Vote Soni for Emerging Entrepreneur
---