We All Scream for Dream Cream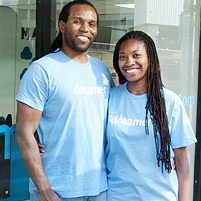 Thomas Jamison & Alecia Shipman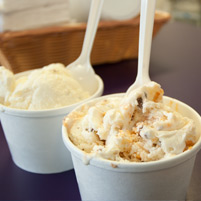 Alecia Shipman (HNZ'10) has a respected degree, a fulfilling job, a loving boyfriend and an addiction — to ice cream, that is. Now that delicious obsession has her ready to open Dream Cream Ice Cream, a unique storefront in the heart of downtown Pittsburgh.

"Not only was this an opportunity for us to flex our entrepreneurial muscles but also to be able to give back to the community," said Shipman of the venture she founded with partner and boyfriend, Thomas Jamison.

Every month, Dream Cream will select up to 12 'dreamers' from applications submitted. In exchange for manning the scoopers, each dreamer chooses their own signature flavor and receives 25% of its sales. Dreams can range from funding a child's music lessons to building a new school playground.

Shipman and Jamison saw the chance to realize their own dream as part of a new Pittsburgh initiative, Project Pop Up: Downtown. Under the program, grant money and up to a year of free space is allocated to local hopefuls in an effort to transform vacant storefronts into innovative retail establishments and artistic displays.

Dream Cream Ice Cream's imaginative business model sparks positive community action while allowing Shipman the time to remain in her current full-time position with the non-profit August Wilson Center for African American Culture.

She began with the August Wilson Center as an intern while studying for her Masters in Arts Management at Carnegie Mellon University's Heinz College.

"The arts management program was a natural progression of my experiences as an artist and teacher," said Shipman. "But what I was really passionate about was serving others and the community. Over time, I realized that can happen through art, community engagement, education, or lucky for me, ice cream."

While at Heinz, she also discovered much more.

"Before I went to Carnegie Mellon I didn't realize the opportunities that existed both in my field and in the world," she said. "I had the chance to associate with people I never would have met and be exposed to different subjects I'd never experienced. It was an eye opener about what my life could be like."

Dream Cream Ice Cream is an example of the kind of initiative behind CMU's Greenlighting Startups, which is uniquely designed to provide entrepreneurs the keys to success.

Shipman reminds us, "We're looking for new dreamers, who can apply at www.dreamcreamicecream.com."

"And," she adds, "we're open to offering special discounts for Carnegie Mellon alumni!"

Greenlighting Startups is uniquely designed to support CMU's culture of entrepreneurship and new business creation. Learn more »
Related Links: Dream Cream Ice Cream | Heinz College | Greenlighting Startups | Pittsburgh Post-Gazette article | Project Pop Up site
---