Secretary of Labor Visits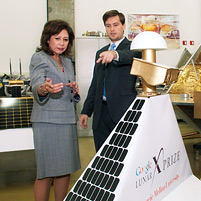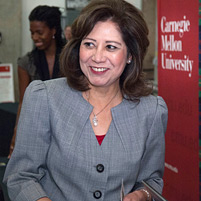 U.S. Labor Secretary Hilda Solis
U.S. Labor Secretary Hilda Solis recently visited Carnegie Mellon University to announce more than $147 million in grants to develop and expand innovative strategies that will help unemployed Americans return to work.

"I was just delighted especially to meet the young people — the young entrepreneurs and their faculty members — and see their cooperation here," Solis said. "That was one of the first things that caught our attention, that there's this cooperative sense of working together, whether it's labor management, apprenticeship programs or the labor movement."

Prior to announcing the grants, Solis, who was making her second visit to the university, watched a mix of technology demos from CMU spinoffs. She said she was moved by the innovative ideas that were shared.

"I was a young child in a candy store because you see all these wonderful gadgets and things," she said. "And it gives me a good feeling that there are some great things that need to be talked about that are happening right here."

She added, "Everything I've seen today gives me a sense that innovation is at the core of everything that goes on here. There's so much application with what I've seen here today … this is the place to be."

Some of the companies on display included Romibo, a socially interactive robot to assist therapeutic interventions in children with Autism Spectrum Disorders and adults with dementia; Peca Labs, which is developing novel replacement heart valves; and Platypus, which is developing an autonomous robotic airboat capable of long-term monitoring of water quality.

As partners with the Pennsylvania AFL-CIO and the Three Rivers Workforce Investment Board, CMU is approaching the improvement of job training head-on.

The Three Rivers Workforce Investment Board — whose president is CMU alumnus Joseph Belechak (E'81) — received $3 million for a new apprenticeship program called "Making it in America." 

"Making it in America is about bringing inventors, scientists and manufacturers together to make it here," said Rick Bloomingdale, president of the Pennsylvania AFL-CIO. "We need to re-connect inventors with the workforce."

CMU's culture of entrepreneurship is supported by six campus incubator groups, collectively known as Greenlighting Startups.

An engine for accelerating innovation and job creation, Greenlighting Startups builds upon the university's impressive record of turning campus innovations into new businesses by supporting award-winning professors and world-class students in transforming their research into thriving commercial enterprises.

"We're ever mindful at Carnegie Mellon of our roots as a trade school back in 1900. Though we're no longer a trade school — we're a great, global research university — we still make things and celebrate making things," said CMU President Jared L. Cohon.

"Now with our focus on research, we are focused on startups. And we want the startups to result in jobs."

Greenlighting Startups is uniquely designed to support CMU's culture of entrepreneurship and new business creation. Learn more »
Related Links: U.S. Dept of Labor Photo Gallery | Pittsburgh Tribune Review Article | Greenlighting Startups
---