Jumpstart Your Future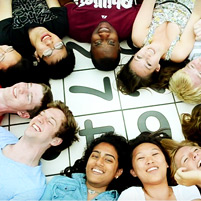 High school juniors and seniors are getting a jumpstart on their future as they begin Carnegie Mellon University's pre-college programs this week.

CMU's summer pre-college programs will show them what life at CMU is all about — from world-renowned faculty in the classroom to the excitement of campus life and an opportunity to explore the city of Pittsburgh. 

Students can choose from architecture, art and design, drama, music or the National High School Game Academy to find out if a field is right for them and to prepare themselves for study at the college level.

Through our Advanced Placement/Early Admission program, students can take two challenging college courses in order to gain advanced placement in college.

A few years ago, Marie Avilez (DC'15) found out about CMU's pre-college program from a flyer in the mail.

"I play the clarinet, and I chose to do the pre-college music program because I knew how strong the music program at CMU is and I wanted to know if that was something I wanted to major in in college."

The relationships she developed with her peers and with the professors left a lasting impression.

"In particular, Dr. Keeling, my clarinet professor, became a mentor to me in music as well as other aspects of my life," Avilez said.

Ultimately she decided that while she enjoyed playing the clarinet, that it wasn't part of her career path — but that CMU was, thanks to her positive experience in the pre-college program.

"Pre-college influenced me to come to CMU because I felt very comfortable being myself at CMU. CMU has a distinct environment — it is very welcoming, friendly and kind," she said.

Moss Madigan (A'15), who now gives CMU campus tours, came to the pre-college program for musical theatre as a way of experimenting and deciding if attending a BFA conservatory program was the right thing for her. Turns out, she discovered dramaturgy and chose it as her major at Carnegie Mellon.

"I'm still friends with the people I met in the program. I also loved the faculty and teachers I worked with," Madigan said. "I just enjoyed being in a college-like environment. Having freedom and taking courses like a college student was fun, exciting, and proved to me that I could handle a lot of things."

Kate Mashek (A'14) wasn't sure how she wanted to spend her summer before her senior year when she found out about CMU's pre-college program online.

She decided to apply as a commuter because the campus was close to home and because design courses weren't offered in her high school.

"I had been looking for potential college majors and industrial and communication design sparked my interest and these were offered by CMU," she said.  "I wanted to see what design was all about and if it could potentially be my future major," she said.

Her summer at CMU influenced her through many ways.

"After the program I decided that design was indeed the major I wanted to pursue, which played a large role in which schools I applied to," Mashek said.

Her final choice? Carnegie Mellon.
Related Links: Pre-College Programs | Undergraduate Admission | Tour Campus | Sleeping Bag Weekend
---