Startups 101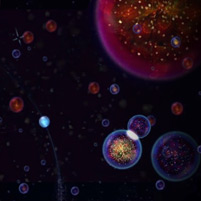 Screenshot from Osmos HD, a bestselling game from Apportable
Aspiring digital entrepreneurs — Silicon Valley seed fund and startup incubator, Y Combinator (YC), is coming to Carnegie Mellon University's Pittsburgh campus tomorrow. See event poster [.pdf].
The influential startup launchpad will meet CMU computer science students to offer "startups 101." The founders will describe what it's really like to 'start a startup' and share some tips for those hoping to establish their own companies.
Also presenting with YC will be Collin Jackson, Carnegie Mellon University Silicon Valley assistant research professor and co-founder of YC-funded Apportable. Jackson's company helps iPhone and iPad developers port their apps to Android.
He was inspired to found Apportable while watching his housemate play the wildly-popular Angry Birds on an iPad. Jackson sat annoyed and helpless with his unsupported Android phone.
"I imagined the developers were too busy to bother porting it to my device," explained Jackson. "Little did I know how difficult it is to port a high-quality game to Android. You have to rewrite and maintain a great deal of code and test on thousands of devices to make sure everything works."
In typical CMU spirit, he decided to do something about it.
"I started Apportable to take care of all those complicated tasks automatically so that Android users can get access to all the same apps that iPhone and iPad owners currently enjoy."
With YC's help — "advice, connections, and inspiration that are invaluable for first-time entrepreneurs" — Apportable has grown to its current team of six engineers and recently launched a bestselling arcade game, Osmos HD, on Android.
Apportable has also partnered with YC-funded Humble Bundle, an organization that raises charitable funds by selling 'bundles' of video games. To date, they've raised over $1.5 million.
Jackson is indebted to Carnegie Mellon and its entrepreneurial culture.
"CMU has given me ample time and resources to pursue my startup," he said. "The campus is a hotbed of entrepreneurial activity and many of my students are working on startups of their own."
Students like Chinmay Garde (E'11), who joined Apportable after graduation.
"We are lucky to have one of the top mobility students from CMU's Information Networking Institute," noted Jackson.
It's this kind of enterprising activity that CMU encourages through Greenlighting Startups — an initiative to accelerate the university's already impressive record of turning campus innovations into sustainable new businesses.
Jackson's advice for budding student entrepreneurs?
"I spent a lot of time in grad school working at startups and hoping that it would give me some preparation," he said. "In retrospect I should have started a company much sooner. There's no better way to learn to be a founder than to be a founder."
Osmos is available for download now: Android

Greenlighting Startups is uniquely designed to support CMU's culture of entrepreneurship and new business creation. Learn more »
Related Links: Apportable | Greenlighting Startups | Y Combinator | School of Computer Science | Carnegie Mellon University Silicon Valley | Information Networking Institute | Event Poster [.pdf]
---