Breaking Stereotypes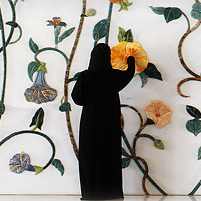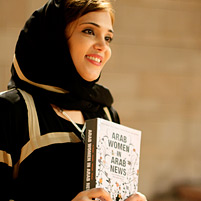 Amal Al-Malki
Being the only Qatari faculty in Education City, Amal Al-Malki is used to breaking stereotypes.

"People tend to see me as the representative of the culture, especially the female culture in Qatar, which could be misleading," said Al-Malki, an assistant teaching professor of English at Carnegie Mellon University in Qatar.

Al-Malki is the lead author of a new book, "Arab Women and Arab News: Old Stereotypes and New Media," jointly published by Bloomsbury Academic Press in London and Bloomsbury Qatar Foundation Publishing in Doha.

She said the book is a personal and academic attempt to offer a new interpretation of who Arab and Muslim women are without being defensive or emotional.

"As an academic, I feel that it is my duty as someone who belongs to different cultures to work on bridging the gaps between our part of the world and the West," she said.

"There is a long history of cross-cultural and linguistic adaptation, the Islamic civilization has helped Europe in setting the grounds in different fields, and now we have adopted the English language as a medium of education and communication.

"As a woman who lives amid these misunderstandings, I'm constantly misrepresented in the Western media and under-represented in the Arab media, so I felt something had to be done."

Al-Malki and David Kaufer, CMU professor of English in the Dietrich College of Humanities and Social Sciences, were granted a priority fund in 2008 by the Qatar National Research Fund to investigate Arab women representation in Arab media.

A system for the quantitative base for the study was created by CMU Associate Professor of English Suguru Ishizaki, with assistance from Kira Dreher (DC'07), a visiting instructor at Carnegie Mellon Qatar.

The study looked at more than 2,300 articles and 100 Arab media sources from a 22-month time period. Kaufer said 44 percent of the mentions for women came from four liberal and transnational Arab presses based in London.

Al-Malki said that Arab women voices have been an integral part of the construction of the news, whether in traditional media or social media.

"Compared to social science studies of the portrayal of Arab women in Western news conducted during the 1980s and 1990s, Arab women have come a long way as a unified force and a powerful voice in hard news in the Arab press," Al-Malki said.

"Arab women are indeed represented with a greater balance of positive and negative images than have been found in older Western studies of Arab women in Western media, especially in the liberal pan-Arab newspapers."

While focusing on the Arab media for the study, Al-Malki and the other authors said the research is important to share with Western audiences.

"I would be more than happy if after reading the book a stereotype is broken about Arab and Muslim women," Al Malki said.

She continued, "We have written this book for the women of Qatar but also for this wider population of women who are seeking ways of taking the next steps in an active, productive life."

Kaufer said that Arab women have made the same kinds of gains and experience the same kinds of challenges that women in every region of the world face, including the United States.

"Women in both America and Arab regions want education and advancement, rewarding careers, and happy and healthy families," he said.
Related Links: Carnegie Mellon Qatar | Buy the book | CNN Interview with Amal Al-Malki | Dietrich College
---