Twitter Co-Founder Visits CMU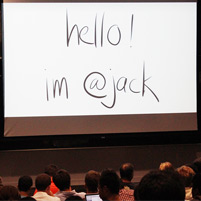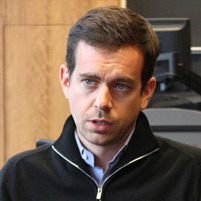 Jack Dorsey
@jack — Twitter co-founder Jack Dorsey — recently connected with Carnegie Mellon University students on CMU's Pittsburgh campus. Dorsey visited CMU as part of a recruitment tour for his newest startup, Square Inc.

The mission of Square, Inc. is to make commerce — specifically the ability to accept credit card payments — available to everyone, even small-volume product and service providers like artists and piano teachers.

Hosted by CMU's Career and Professional Development Center (CPDC), Dorsey interacted with more than 500 CMU students. He participated in two roundtable sessions — one with Electrical and Computer Engineering and another with Computer Science students and faculty.

"We recruit from schools that are a good fit for the challenges we face," Dorsey said. "The project-based work students complete here is very helpful to us."

In addition to specifically seeking out the 'right' employees for Square Inc., Dorsey presented to an overflow crowd in Rashid Auditorium, participated in a Square Inc. networking event and gave interviews with the media.

Dorsey shared how he never strived to be an entrepreneur. He simply had ideas to make things easier for people and to make their lives better.

And throughout his visit, his message was consistent: To inspire students to do what they love. And if you're looking to start the next big thing in technology, it's okay to start small.

"The biggest thing that I learned," Dorsey said, "was to get your idea out of your head. You have to draw it. You have to code it. You have to write it down. You have to talk to people about it. Because if it stays in your head, you're always going to make an excuse of why you can't do it."

This way of thinking is embedded within the culture of the university and encouraged by CMU's Greenlighting Startups initiative. Greenlighting Startups serves as a resource in providing CMU's young entrepreneurs the keys to success.

Dorsey also had advice for CMU students who are interested in making technology simple and available to all. "Be really self-aware of how you're using technology and what you can take away from those interactions," he said.

"We build technologies and some of those technologies build up a lot more complexities that get in the way and we have to live with them. They take our focus away from what's truly meaningful."

Dorsey stressed the importance of keeping things simple.

He said that making mistakes is okay and constant adaptation and improvement should guide the process. "Simple is hard to do," said Dorsey. But keeping things simple and having a passion for what you do will go a long way.

Greenlighting Startups is uniquely designed to support CMU's culture of entrepreneurship and new business creation. Learn more »
Related Links: Career & Professional Development Center | Spark: Startups and Emerging Companies | Greenlighting Startups | CMU on Twitter
---