Recruiting for Startups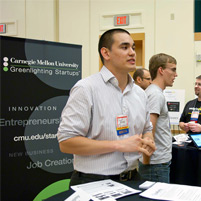 On Oct. 23–24, 2012, twenty-six young businesses and emerging companies will be on Carnegie Mellon University's Pittsburgh campus for Spark — an innovative career event for small businesses and startups.

Far from being a job fair, this unique networking experience lets students, alumni and employers engage in the kinds of in-depth conversations that lead to successful recruiting.

"Our intern program is an integral part of our company, and we take the recruiting and hiring of those interns very seriously," said Jose Cong, recruiting manager for Nest Labs.

"Last year, we ended up hiring two interns we met at Spark, and we have high hopes for finding great talent again this year."

Founded by CMU alumnus Matt Rogers (E'04'05), Nest Labs is just one of the many startup companies created by CMU faculty, students and alumni who take full advantage of the resources available through the university's Greenlighting Startups initiative.

Kunal Bajaj (E'13), who was hired to intern at Nest Labs as a result of last year's Spark event, recommends the event to others.

"I benefitted a lot from the event," said Bajaj, who is now employed fulltime as a hardware engineer at the company. "I feel you gain a lot more knowledge in less time if you end up working for a startup."

Next-day interviews have been added to this year's event based on student and employer feedback that indicated a desire to carry the momentum into an opportunity to interview each other.

"It is not unheard of to have two employers carrying on a conversation with two to three students at the same time," explained Wahab Owolabi, assistant director for employer development in CMU's Career and Professional Development Center. "And our high-top round tables play a huge role in breaking down the barriers that traditional career fair booths tend to put up between student and employer."

And these students and employers value the same thing — a Carnegie Mellon education. Many of the companies attending Spark are either CMU startups or employ CMU alumni.

In addition to CMU startup Nest Labs, other companies like Living Social are returning for this year's event. New companies participating include Uber, Box, Custom Ink and Rent the Runway. Read the full list of employers attending.

Greenlighting Startups is uniquely designed to support CMU's culture of entrepreneurship and new business creation. Learn more »
Related Links: Spark: Startups and Emerging Companies | Career & Professional Development Center | Greenlighting Startups | A Better Thermostat
---