Global Entrepreneurship Week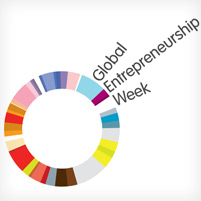 Entrepreneurship is vital to economic growth. And Carnegie Mellon University students, faculty and alumni are out in front leading the charge.

Celebrate the innovators and job creators who bring ideas for solutions to life. Visit one of CMU's exciting and informative events happening across the Pittsburgh campus during Global Entrepreneurship Week.

"Global Entrepreneurship Week is a great way to celebrate entrepreneurship and innovation," said David Mawhinney, vice president for research at CMU's Tepper School of Business and executive director of the Donald H. Jones Center for Entrepreneurship. "It gives us a platform to organize events and competitions that engage the next generation of entrepreneurs."

He added, "We are partnering with other universities and regional partners for events from an elevator pitch competition to a startup job fair to a social innovation showcase. There is something for everyone interested in entrepreneurship."

Giselle Marino, programs manager for the Don Jones Center, said, "Our goal for Global Entrepreneurship Week (GEW) is to nurture our entrepreneurial community — from young entrepreneurs to future investors to those interested in working at a startup — and also to celebrate entrepreneurship as a campus."

"We truly embody cross-disciplinary collaboration which is exactly what GEW and our programs promote."

Lenore Blum, distinguished career professor of computer science and founding director of Project Olympus, noted that most of the activities are student-initiated.

The initiative was launched in 2008, by former British Prime Minister Gordon Brown and Carl Schramm, the president and CEO of the Ewing Marion Kauffman Foundation.

"Now there are 115 countries who participate," said Blum, "with nearly 24,000 partner organizations and 37,000 activities that directly engage more than 7 million people."

In reference to CMU's celebration of GEW Blum said, "We are so pleased to have Duolingo as a sponsor."

Duolingo, created by CMU computer scientists Luis von Ahn and Severin Hacker, helps tackle the gargantuan task of translating the web as users learn a new language. The free website features computer tools that enable foreign language novices to translate text as well as a professional.

Thanks to the efforts of groups like the Don Jones Center and Project Olympus, CMU has enjoyed tremendous success in nurturing ideas and innovations into commercial enterprises. They are part CMU's Greenlighting Startups initiative — a consortium of campus incubators that provide young entrepreneurs key resources for success.

The university's faculty, alumni and students have helped to create 300 companies and 9,000 jobs in the last 15 years.

GEW kicked off on Monday, Nov. 12 with a Young Entrepreneurs Panel and an Elevator Pitch Competition.

"GEW is truly a campus-wide activity with eight events aimed to help our students, from technology to the arts, take their entrepreneurial visions to the next level," Marino said.

Greenlighting Startups is uniquely designed to support CMU's culture of entrepreneurship and new business creation. Learn more »
Related Links: GEW at CMU on Facebook | Greenlighting Startups | Greenlighting Startups on YouTube | Don Jones Center | Project Olympus | Center for Technology Transfer and Enterprise Creation | Global Entrepreneurship Week
---