Combining Literature and Culture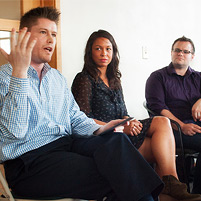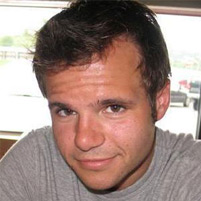 Michael Scotto
Carnegie Mellon University's Literary and Cultural Studies (LCS) program, within the Department of English, celebrates 25 years this fall.

The graduate program — one of the first of its kind in the U.S. — combines the interpretation of novels, plays, films and music with the study of their broader cultural environment. It has graduated over 300 master's students and 30 Ph.D. students since its 1986 inception.

The CMU community recently marked the anniversary with a celebratory event.

After welcoming remarks by CMU's Dietrich College of Humanities and Social Sciences Dean John Lehoczky, associate professor Kathy Newman tied the program to Andrew Carnegie's larger goal of providing education for 'useful' careers.

"We have a desire to connect the study of culture to real life," said Newman, "asking questions like 'What is the relationship of culture to the economy?' 'What does it matter what we read, watch and play?' and 'What is the role of literature in a sped-up, socially-mediated world?'"

Newman then introduced a panel of seven alumni who returned to campus to discuss the program's impact on their lives and careers. The alumni professions included representation from BNY Mellon to the Carnegie Mellon Museum of Art, as well as the non-profit and education sectors.

Children's novelist and alumni panelist Michael Scotto shared his thoughts on CMU's LCS program.

Scotto (DC'04,'05, A'07) is the creative writing coordinator for the National Network of Digital Schools, supervising a team of writers working to devise online methods of instructing children through storytelling. He is also the author of a number of children's books and the iPad version of his latest, "Be a Buddy, Not a Bully."

"The LCS program taught me how to research and how to dig deeply into cultural experiences outside my own," said Scotto. "As a writer, it's been invaluable to be able to recognize my own biases and assumptions, and my time in the program helped me to evaluate my work not just as an artist, but as a contributor to our culture."

Scotto said that he stays connected to CMU because he realizes that it was here that he came into his own as a writer and a thinker — and he hopes future CMU graduates are experiencing the same thing. 

"LCS helped me to figure out why it matters that I'm a writer."

The other alumni panelists also praised the program, the faculty, and the network of fellow students for their success after CMU. Comments included, "The program altered the course of my life," "It prepares you to work with diverse topics" and "It is still a part of me."

The LCS program is one example of CMU's excellence in the humanities. Within the Dietrich College, world-class faculty use fields within English, history, modern languages and philosophy to solve real-world problems. For example, philosophers are working to improve medical ethics practices and food marketing tactics geared towards children; historians are developing policy recommendations for forensic DNA profiling and drug policy; and English professors are creating social networking tools to improve education. Dietrich College humanities students have the opportunity to follow their interests and cross disciplines, leading them to varied and successful careers.

Photo: Alumni panelists Matthew Freeman, Regina Anderson, and Michael Scotto.
Related Links: Read full release | Dietrich College | Literary and Cultural Studies Dept
---