Delivering Healthcare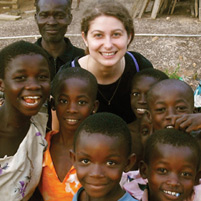 Ashley Kilp (CMU'10) was a long way from home. Standing in the tiny church in Ghana, she found herself in the middle of a mobile clinic.
Speaking Twi, a local dialect of the Akan language, she instructed patients. Sit here and look at the chart. Cover your eye. Read from the top down.
"Some people's vision was so poor that they couldn't even see the chart," she said. "Some patients could only see my hand moving or just light shined in their eyes. Some couldn't even see the light at all."
Kilp is a 2010 graduate from the Department of Chemistry and a Science and Humanities Scholar. There were dozens of cataracts she could identify without even examining them with a light.
"It was really sad because you know how much these things are affecting people's lives and you know how easily they could be fixed or could have been prevented if only they had the ability to get care," Kilp said.
According to the World Health Organization, three-quarters of all blindness can be prevented or treated. But in the poverty-stricken, rural regions of Ghana, significant roadblocks keep many from getting medical treatment.
"If the patient is in the village and is blind from cataracts, which are treatable, but has no money to go to the hospital for an operation, he is left in the village there to suffer until he dies," said ophthalmologist Dr. Thomas Tontie Baah, who works with Unite for Sight.
The situation is even more dire when you consider Baah is one of only 45 ophthalmologists serving all of Ghana. The country has a population of 23 million people — many of whom don't have the means to travel to a hospital.
To help villagers overcome these obstacles, Unite for Sight partners with local eye clinics, traveling to remote villages to provide care free of charge. Kilp worked with the Crystal Eye Clinic, the Tema Christian Eye Center and the Save the Nation's Sight clinic.
During her two-month stay in Ghana, Kilp visited more than 35 communities. She brought much-needed medical care to hundreds of people — and shouldered a lot of responsibility.
Kilp made sure that people received the correct glasses and proper medications and that they understood how to use both. She also contributed to accurately maintaining medical and financial records.
"It was two months of crazy and awesome and wonderful," she said.
Amy Burkert, vice provost for education and former director of the health professions program, says she has seen a substantial increase in global volunteer experiences — particularly among pre-health students.
"Many of our students have a genuine desire to use their education to make an impact in both local and global communities," Burkert said. "It can be contagious."
Burkert explained, "When a dynamic student leader like Ashley shares her experiences with others, even those students who initially weren't so service-oriented start to explore how they can tap into these opportunities for themselves."
Related Links: Education w/out Boundaries | Dept of Chemistry | Science & Humanities Scholars | Mellon College of Science
---