Welcome Back!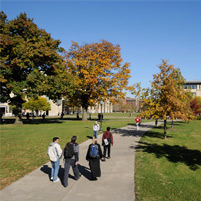 Working side by side with award-winning faculty in top-ranked programs, students starting classes at Carnegie Mellon University this week will be nurtured, trained and challenged to solve real-world problems.

And their CMU education will make them some of the most sought-after graduates competing for the best jobs.

Consider Noah Levin — who recently landed a job after graduation at Google and credits much of his success to his CMU experience.

"The culture really allows people interested in doing a lot of things to thrive," said Levin. "CMU's energy and drive just embraced me. Being able to go out, jump around and work on a variety of things translated so clearly to the working world."

Many others have gone on to form startups and create their own companies.

"I was very lucky to go to CMU," said Nathan Martin (A'99), founder and CEO of Deeplocal, a CMU spin-off company which is, well, kind of hard to pigeonhole.

A collaboration of artists, designers and engineers, Deeplocal spans disciplines to spark innovation.

"The education was fantastic. The art school taught you how to think; that what can differentiate you is the idea. And it had something other art schools didn't — the engineering program. For a geek at heart like me, I could truly explore."

It's the unique interdisciplinary nature of the university that successful alumni often point to as redefining the way they think.

Russell Crockett, a 1987 graduate of CMU's chemical engineering program, shares these sentiments.

"When I tell people I went to Carnegie Mellon, it stops them in their tracks," said Crockett. "It tells people you've been through an exceptional experience."

Formerly vice president, chemical sales for Lyondell — one of the world's largest chemical companies — Crockett credits a CMU education for his success by cultivating his confidence, curiosity and competitive spirit.

And it's this combination of strengths that other alumni credit with truly allowing them to live their dreams.

"When I dreamt of working at Disney World, I never considered what would happen after I got the job — whether I could look past my dream and think even bigger," said Cheryl Platz (CS'02,'03), who was mentored by late CMU Prof. Randy Pausch. "CMU definitely helped me find the next steps after my own personal 'ever after.'"

From brain, mind and learning to privacy online, from health, safety and environmental risks to television and the wonderful world of Disney, our experts are leading their fields — and their students are following in their footsteps.
Related Links: Greenlighting Startups | Brain, Mind & Learning | Environment at CMU
---