Considering U.N. Careers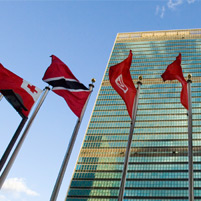 From resolving conflicts to alleviating poverty, the world looks to the United Nations (U.N.) when it needs to solve a complex problem.

So what better way to supplement an education in complex problem-solving than a summer internship at the U.N.?

That's what half a dozen Carnegie Mellon University students thought as they embarked on this exciting challenge
Five are from Heinz College's Master of Science in Public Policy and Management Program.
The United Nations Development Programme (UNDP) assigned them to United Nations Offices where their educational experience could be enhanced through practical work assignments.

Four of the Heinz College students — Youjin Chae, Edayatu Lamptey, Bala Kattappuram and Amy Badiani — are wrapping up internships at the UNDP headquarters in New York.

"The overall industry we're working in is considered international development," said Badiani.

"But my department, the Global Environment Facility (GEF) Small Grants Programme, supports the activities of NGOs and community-based organizations in developing countries pertaining to environment and energy."

Heinz College student Yu Fu, an intern in the Ecosystems and Biodiversity (EBD) Portfolio, is working in South Africa.

There, Fu assists with the evaluation of a number of EBD projects — including the analysis of financial sustainability and establishing a cumulative record highlighting the impact of EBD portfolios.

"It is very exciting having a panoramic view of project life-cycles. In other words, learning how projects are developed, implemented, and especially evaluated is a huge expansion for my knowledge about project management," said Fu.

Kattappuram found many opportunities during the internship to put his classroom education to good use.

"The MSPPM has equipped me with all the technical, analytical, and quantitative skills necessary to perform a wide variety of tasks at the U.N.," he said.

"Since on any given day you may be called to do a number of different things, the well-rounded approach of the MSPPM program is uniquely suited to address the issues at multiple levels of complexity and intricacy," Kattappuram added.

"Nobody teaches you how to ask the right questions and measure the answers correctly like Heinz College does."
The sixth student, Longzhu Shen, is on assignment as part of the Ph.D. program at CMU's Mellon College of Science, where he studies methods of removing pharmaceuticals from the water.
Related Links: U.N. Careers | MSPPM | Heinz College
---