Tutoring for Community Outreach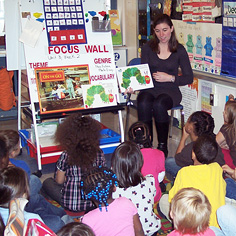 The kindergarten children were having so much fun crowded around the young woman reading, they didn't realize it was a Spanish lesson. Just as Nicole Rappin (BHA'11) had planned.
It was part of Rappin's 'service-learning' course,
Tutoring for Community Outreach,
offered by Carnegie Mellon's
Department of Modern Languages
. Working with K-12 classes in the Pittsburgh Public Schools (PPS), the university students promote local youngsters' learning of world languages and cultures.
The tutors work with students and teachers of Chinese, French, German, Japanese and Spanish, as well as English as a Second Language. For three semesters, they are also integrating technology under a joint grant with the PPS, entitled Enhancing Education through Technology.
The course she established in 1996 is still led by
Susan Polansky,
teaching professor of Hispanic Studies and head of the Modern Languages Department. She's discovered that all community partners benefit from the experience, learning as much about each other as about world languages and cultures.
"We look at this as a true win-win-win kind of experience," said Polansky. "The tutors and their pupils develop an amazing rapport, and it's good role modeling. The PPS teachers love the Carnegie Mellon students, with their creativity and energy. They praise our students in very strong terms."
Rappin, a music history and self-defined 'cross-cultural communications' major, enrolled initially for the teaching experience.
"It became so much more," Rappin explained. "It's often easy to forget how much diversity exists just down the road. I worked with students from a variety of backgrounds, from kindergarten to fifth graders with disabilities, and was able to help them all in different ways through language. Over the semester, the outreach became more of a life experience, teaching me so much more than Spanish."
Interestingly, a majority of the undergraduates in the course, as well as in the department, carry double majors.
"What they see is a value-added to whatever they're doing," Polansky noted, which can range from architecture to mechanical engineering.
The class is one of many initiatives supported by Carnegie Mellon's
Leonard Gelfand Center for Service Learning and Outreach,
which supports more than 85 programs conducted at Carnegie Mellon that serve regional K-12 teachers and students, including programs for professional development and certification, as well as children's tutoring, mentoring and enrichment.
Related Links: Modern Languages Department  |  Modern Languages Outreach
---