Carnegie Mellon Receives Sen. Paul Simon Award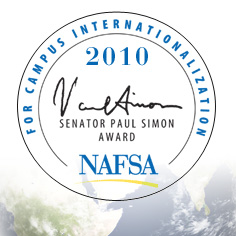 Carnegie Mellon University is proud to be one of five higher education institutions that will receive the 2010 U.S. Senator Paul Simon Award for Comprehensive Internationalization from NAFSA: Association of International Educators during the NAFSA annual conference June 4 in Kansas City, Mo.
This prestigious award reflects Carnegie Mellon's position as one of the world's elite top-tier global universities and recognizes the university's accomplishments in preparing students to address society's most pressing challenges.

The achievements that have earned Carnegie Mellon the Simon Award — as well as a ranking of 27th in the world by the London Times Higher Education Supplement — will be included in the NAFSA report, "Internationalizing the Campus 2010: Profiles of Success at Colleges and Universities," to be published this fall.

"We are very pleased and honored to receive this recognition for our international efforts," said Carnegie Mellon Vice Provost for Education Indira Nair, who has helped to lead international curriculum development at the university. "Carnegie Mellon excels in challenging our students to become aware, socially responsible global citizens of tomorrow's world. Carnegie Mellon's focus on internationalization is reflected not only through a curriculum that enhances global understanding, but also through our international students here, our international research and education partnerships, and through our relationships with alumni all over the world."

Much of Carnegie Mellon's global expansion and leadership has occurred in the 13 years that Jared L. Cohon has been president. With Cohon's direction, Carnegie Mellon has developed a strategic plan that includes a specific focus on "Globalization and International Initiatives" with the pledge to educate students to understand and be effective in the global context of their personal and professional lives. The university aims to prepare students for lives and careers in an interconnected world, and to use research and education to expand human capabilities and social opportunities.

To achieve this, courses and activities in Pittsburgh weave in perspectives developed through a "Global Awareness Across the Curriculum" effort. New courses and programs enhance the student's global understanding of issues in a variety of disciplines, including information systems, biotechnology, engineering, the environment and political science. Some examples are:
Global Systems Project Management (College of Humanities and Social Sciences) that links students in Pittsburgh, Doha and Singapore who create Web sites for local non-profit organizations or solve other information technology-based problems;
Biotechnology Impacting Our Selves, Societies and Sphere (Mellon College of Science) in which students in Pittsburgh, for example, have considered the biological and social aspects of HIV-AIDS and examined the problems in videoconference consultation with an alumna now working in Southern Africa;
Mapping Urbanism (College of Fine Arts) taught in both Pittsburgh and Doha, examines urban history and theory by focusing on international cities that have, like Pittsburgh and Doha, experienced rapid growth and change. The faculty work with Qatar's Urban Planning and Development Authority, the Qatar Green Building Council and local developers, closely aligning their teaching, research and professional work in the Middle East region;
International Collaborative Construction Management (College of Engineering) is a class taught with cross-country teams of engineering students in Pittsburgh, Turkey, Israel and Brazil. The teams collaborate via videoconference and other forms of computer-mediated communication to solve construction problems.
Elsewhere, Carnegie Mellon has master's degree programs in Australia, Greece and Portugal, and joint doctoral programs, post-doctoral partnerships and executive education programs in several countries, including Singapore. Just this past month, Carnegie Mellon established a dual Ph.D. program in engineering with Nanyang Technological University (NTU) in Singapore.

Meanwhile, the more traditional student exchange programs, study abroad opportunities and student projects with an international focus define the university's intention to create innovation with impact worldwide. For example, students have created a computerized Braille tutor for the children at an orphanage for the blind in India. Others have developed a video game "for peace" based on role-playing the Israeli-Palestinian conflict, which now has more than 100,000 copies in circulation.

Carnegie Mellon students represent nearly 100 countries. Carnegie Mellon has 11 international alumni chapters and an influential, global alumni base in nations such as China, India, Japan, Singapore, South Korea and the United Kingdom, among many others.

The Simon award follows recognition from the American Council on Education (ACE), which recently selected Carnegie Mellon's International Collaborative Construction Management project as a winner of the ACE competition "Bringing the World into the Classroom."
Related Links: International Programs at Carnegie Mellon
---