From Lab to Marketplace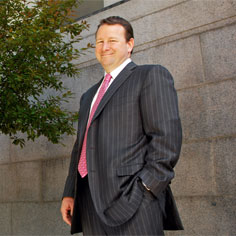 The path from idea to product is neither quick nor easy, admits Rick McCullough, vice president of research at Carnegie Mellon. Taking research from the lab to the marketplace requires counsel, the collaboration of experienced colleagues, business strategists and investors.  
From
Sensorfly
to
reCAPTCHA
to
Chalkbot
, Carnegie Mellon's
stories
are examples of how an entrepreneur's chances of success are boosted by university's culture of innovation and interdisciplinary collaboration.  
"Carnegie Mellon is a leader in innovation and we are constantly creating the future through innovation. That's our strength," McCullough said. "We have the resources necessary to support young research at Carnegie Mellon, resources that provide tools and skills necessary for moving forward successfully each step of the way."  
Among them:
Center for Technology Transfer and Enterprise Creation (CTTEC) uses a collaborative and problem-solving approach with researchers to validate, challenge and extend their work, with the overall goal of commercialization.
Donald H. Jones Center for Entrepreneurship uses an interdisciplinary/academic approach, coupled with experiential learning, and is geared towards students leading innovation, change and growth in start-ups, emerging companies, and mature organizations.
Olympus provides start-up advice, micro-grants, incubator space and connections for faculty and students across campus and with the regional, national and global communities.
Quality of Life Technologies Foundry assesses the potential of and accelerates commercialization for research projects, with the goal of commercializing technologies that greatly improve the quality of life for all people.

"We've helped to create 120 jobs over the last year and a half," said McCullough. "And over the last 10 years, eds and meds have created 22 percent of the total salaries in the region."

But McCullough admits help is going to be needed to continue down this road. "We're in a new environment. A lot of the support services entrepreneurs have counted on in the region have had to cut back or are simply gone," he said.
 
McCullough — who co-founded Plextronics using his own groundbreaking research — says starting a company is a lot like having kids.
"If you sat down and analyzed every single detail beforehand — the investment of your time, your finances — you probably wouldn't do it," he joked. "If I can do it, you can do it." 
 
McCullough has just recently started a new company, Metalon, Inc., that is commercializing printable metals developed in his lab. He points to the resources within Carnegie Mellon for those at the university in need.
"Through interdisciplinary, transformative problem solving, by bringing disciplines together, it really inspires people to attack problems that could never be solved before," he said. "So with resources and these interdisciplinary groups, together that inspires tremendous innovation. And Carnegie Mellon can create innovation like no other place in the world."
Related Links: Office of the Vice President for Research  |  CTTEC  |  Olympus  |  Don Jones Center  |  QoLT Foundry
---