Childcare: A Historical Perspective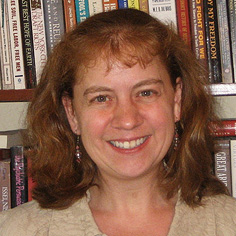 The edges were worn and the image faded by passing years, but the photograph of Jessie Ramey's great-great-grandfather James Caldwell and his children still had a story to tell. So Ramey — who received her doctor's degree in history from Carnegie Mellon in 2009 — did a little research.
"It was a very typical Pittsburgh immigrant story," she said of Caldwell and his wife, Jessie, who came to America from Scotland in 1880. Jessie died in childbirth, leaving James to care for them alone. Unable to combine work in Andrew Carnegie's steel mill with his childcare obligations, he wound up placing the children in an orphanage.
"But while looking at that photograph one day, it occurred to me that those children were not actually orphans — they had a living father," Ramey said.
Using this knowledge as a jumping-off point, Ramey re-conceptualized orphanages and their development as a form of childcare. She studied working parents and their struggle to combine employment and child rearing and revealed how they used child welfare institutions for their own purposes — as a family survival strategy.
"These orphanages were the predecessors of modern day care, foster care and the social welfare system, and the way that the institutions developed had long-term consequences for child care in the U.S.," Ramey explained. "In many ways, working families today face conditions similar to those in Pittsburgh in 1880."
Ramey's work has earned her the Lerner-Scott Dissertation Prize in Women's History from the Organization of American Historians (OAH), which is the top prize given in her field of women's history. She also received the Herbert G. Gutman Dissertation Prize from the Labor and Working-Class History Association (LAWCHA), which came with a publishing contract with the University of Illinois Press, and the John Heinz Dissertation Award from the National Academy of Social Insurance (NASI).
"The John Heinz award is usually given to economists and public policy experts, so this recognition of history was also quite wonderful," Ramey said.
Ramey's three dissertation awards are unprecedented for the Department of History.
"To have Jessie's ideas and work recognized by three different organizations is a significant accomplishment for her and our faculty," said Joe Trotter, the Giant Eagle Professor of History and Social Justice and head of the Department of History.
Ramey is a third generation graduate of CMU. She is the Founding Director of the Undergraduate Research Office (URO), which celebrated its 20th anniversary last year, and started many programs including the annual Meeting of the Minds symposium, at which nearly 500 students present their research findings each spring.
During her tenure, the National Science Foundation (NSF) recognized Carnegie Mellon with a prestigious $500,000 award for its success in integrating the research and teaching missions of the research university — and the URO now serves as a national model.
"My father also worked here for 30 years as a research engineer, and I literally grew up around Carnegie Mellon," Ramey added.
Her husband, John Zimmerman, is a two-time CMU graduate and is a faculty member in computer science and design; both her brothers and her sister-in-law are also graduates.
Ramey still plays her bagpipes with the Carnegie Mellon Pipes and Drums band.
Related Links: Read More  |  Undergraduate Research Office  |  Dept of History
---