Saluting Our Veterans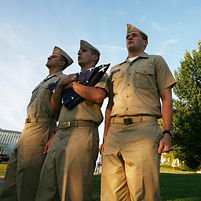 Lt. Col. William Malloy serves as a healthcare administrator for the United States Air Force, managing medical centers, hospitals and clinics. It's no small task and he credits his alma mater with helping him excel.
As a 2001 graduate of Heinz College, Malloy agrees with G.I. Jobs magazine — which ranks Carnegie Mellon University on its 2011 list of "Military Friendly Schools."
Malloy says both the faculty and students at Carnegie Mellon University create an educational environment where service members can thrive.
"The professors were very helpful and told me they appreciated my work ethic," Malloy said. "Students were insatiably curious, especially on Wednesdays when I was required to wear my uniform."
Malloy said it's extremely rare for members of the military to attend such prestigious programs.
"I am deeply thankful for the help and support of Heinz College, which made it possible for me to attend through their generous public service scholarship."
The G.I. Jobs ranking put Carnegie Mellon in the top 15 percent of more than 7,000 schools in the United States.
Among other benefits, Carnegie Mellon's support for service members includes:
Offering scholarships and tuition discounts for military students and veterans

Allowing students called to active service to return without penalty

Advising veterans with career placement

Associations and events specifically for veterans
Brian Cortell (E'11) is a student in the Naval Reserve Officers Training Corps (NROTC) who can speak not only to the support he's received at CMU but also what he's learning.
"NROTC has taught me to hold myself to a high standard," said Cortell, who credits the program with developing his discipline and integrity.
The program includes battalion physical training, and naval laboratory and science classes.
"Battalion physical training allows for midshipmen to improve their physical fitness levels and learn what it takes to lead sailors and marines in real life scenarios," Cortell said.
In addition to what they learn in the classroom, midshipmen are given the opportunity to participate in volunteer events, drill, community clubs and military excellence competitions.
"NROTC is inherently designed to challenge midshipmen and to develop their leadership skills," Cortell said. "These are traits that will carry us through the challenges amidst and beyond their careers in the Navy and Marine Corps."
In the rank structure of NROTC, a midshipman may lead anywhere from five to 95 other students.
"It's an opportunity to take on major responsibility early in our lives, practice leadership techniques and learn from mistakes," Cortell said. "It also gives midshipmen a chance to interact and learn from some of the best leaders this country has to offer."
Related Links: Heinz College | NROTC | G.I. Jobs Rankings
---