Randy's Legacy Reaches the NFL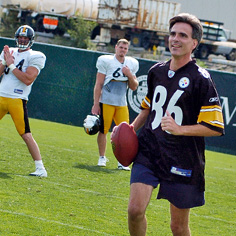 Sporting a No. 86 jersey, Randy Pausch sprinted onto the field during a Pittsburgh Steelers practice in the fall of 2007. He may not have looked like a professional wide receiver, but per usual, Pausch was prepared for the task at hand.
He managed to catch every single pass that Hines Ward threw his way that day — a feat that impressed Mike Tomlin, the Steelers' head coach.
Pausch scored his invite to practice with the Steelers after delivering his now-famous last lecture, "Really Achieving Your Childhood Dreams" at Carnegie Mellon in Sept. '07. In his moving lecture that has since inspired people around the world, Pausch, Carnegie Mellon's beloved professor and alumnus, talked about his own dreams and the lessons he learned while trying to achieve them.
Among his array of childhood dreams was playing in the National Football League (NFL).
"And most of you don't know that I actually — no," Pausch joked with the packed auditorium during his last lecture. "No, I did not make it to the National Football League, but I probably got more from that dream and not accomplishing it than I got from any of the ones that I did accomplish."
Although Pausch never made it to an official NFL roster, his legacy continues to inspire millions. This time his memorable message is reaching a whole new audience — football fans.
With a Steelers appearance in Super Bowl XLIII, the NFL is making great use of Pausch's inspiring words.
"NFL Films Presents" — television's longest running sports series that creates programming for ESPN, the NFL Network and NFL.com — recently produced a segment featuring Pausch. The video focuses on Pausch's last lecture and his dream to play pro football, capturing a unique perspective.
The segment aired in December and will likely air several more times over the coming months.
Pausch's legacy lives on in other ways, too.
Sun Microsystems, Inc. is teaming up with Carnegie Mellon to support the continuing development of Alice — Pausch's main research project.
The innovative programming environment teaches students to program with Alice and Java software as they have fun creating 3D animations, stories and video games.
About 15 percent of the nation's colleges and universities use Alice to teach computer programming. Experts believe its revolutionary approach could reinvigorate computer science education in the United States, from the middle school level through college. Learn more and download Alice for free at www.alice.org.
Related Links: Watch NFL Films Presents: Randy Pausch  |  Alice.org  |  Pausch Legacy Fund  |  Smart Football  |  School of Music's Steelers Opera
---