Find. Connect. Tweet. Brag.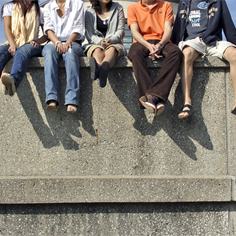 Summer vacations are now memories. Backpacks are jammed with books and laptops. And Carnegie Mellon students are roving both the campus and the Internet looking to connect with what's happening in the university community.
"It's wonderful being back," said Prerna Singh (TPR'12), who is majoring in business and mechanical engineering and serving as a Resident Assistant. "I was looking forward to coming back all summer. It's almost like coming back home."
And for those looking to give their friends and family a taste of the university, a new website offers easy-to-share snapshots of some of Carnegie Mellon's biggest breakthroughs and ideas. Carnegie Mellon's Little Book of Big Ideas is a gallery of innovations and sparks of inspiration that got their start at the university. The site offers ways to share favorites via Facebook, Twitter and email.
Visitors can also submit their own brags about the university through Twitter.
"The traditions are awesome," said Christian Aponte (HS'13). "I already had the chance to paint the fence. I hope to get involved in bagpiping. I want to see if I can join the bag pipe team, just because I love the tradition."
Singh, Aponte and other students now have a new way to connect with the goings-on by visiting www.cmu.edu/social.
It's a central place where they can find just about anything, connect with others, tweet about what interests them and get helpful links to a variety of university sites.
Aponte said the other reasons he chose Carnegie Mellon are academics and diversity.
"I love the diversity here. My roommate's from Malaysia, and it's great to get to know people with different interests, majors, ethnicities, religions," Aponte said.
The Class of 2013, in particular, represents 25 countries and 41 states. There are 1,454 students, 832 of which are men and 622 of which are women. Fifteen percent are Pennsylvania residents while 14% are international students.
Related Links: Little Book of Big Ideas  |  www.cmu.edu/social  |  Traditions at CMU
---