A Mars Adventure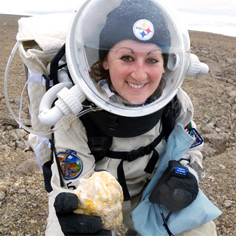 Sporting a space suit, Kristine Ferrone (S'04) ventured out into the uninhabited environment with nothing but rocks, boulders and crags before her. The environment was so far removed from her everyday life, it might as well have been another planet.
In the Canadian Arctic, Devon Island is as close as you can get to Mars without leaving Earth — which was precisely the point of Ferrone's month-long stay in the Flashline Mars Arctic Research Station (FMARS). Ferrone was one of six crew members chosen to conduct experiments to help astronauts prepare for human Mars exploration, while living in the simulated environment.
"I never thought I'd get picked for something so crazy. The simulation was pretty realistic," explained Ferrone. "One of the crew members had a picture of Mars that we compared to a picture of Devon Island. It was eerily similar."
The terrain allowed the team to test out ATVs and four-wheelers, which were used to simulate rovers. While the temperature range isn't exactly the same, it is comparable to Mars — it's a cold, desert landscape. The geology is also predicted to be similar, due to the lasting effects of the mile-wide meteorite that crashed into the island 39 million years ago.
Ferrone spent her days exploring the island and conducting High Power Laser Therapy (HPLT) experiments on her fellow crew members, using the first cold laser real-production machine ever made. The laser was recently approved by the FDA.
"I was trying to figure out if this new equipment could be a viable option to take to Mars to treat astronauts for muscle and joint soreness, and to help heal cuts and sores," Ferrone explained. She used the laser protocol on crew members before and after they ventured outside — tracking how they were feeling each day.
Often doing strenuous work for long periods of time while wearing a 40-pound space suit, the experiment's results showed significantly less muscle and joint pain among crew members than was expected.
"HPLT is great for three reasons: the machine is small, it's easy to use and it has so many applications for crews that don't have access to a lot of medical care," said Ferrone.
Ferrone acknowledges her experience at Carnegie Mellon has played a significant role in helping her to achieve her goals.
"The biggest thing I learned at Carnegie Mellon that helped me in this mission was how to do quality research. Those skills are invaluable at FMARS," said Ferrone. "And my physics education is the foundation of everything I've done since undergrad."
Related Links: More About Ferrone  |  FMARS 2009  |  Mellon College of Science
---