Zalenda Cyrille Mentors D.C. Youth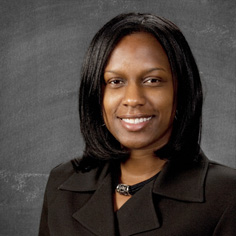 Zalenda Cyrille (MCS'01) has been dedicated to community service for as long as she can remember.
Graduating from Carnegie Mellon with a degree in mathematical sciences, Cyrille started a career in systems engineering after a pivotal interview with Lockheed Martin. While moving quickly through the ranks — she currently manages a team of 11 test engineers — Cyrille also made time to co-found a youth-oriented nonprofit with fellow alum, Keith Beverly (TPR'02) in 2008.
This past November, Cyrille was recognized by the March of Dimes and Women in Technology with their new Rising Heroine award. The distinction honors professional women in technology fields who have made a rapid and significant impact on the Washington, D.C., area community.
IT'S TIME (Inspiring Thoughtful Students by Taking Initiative to Motivate Excellence) works with 6th and 7th grade students to improve their leadership skills with oratory classes, investment exercises and lunchtime speakers. Entering its second year of operation, Cyrille already has plans to see the class size double, and eventually expand to other locations.
"I was always taught that if you were given all these blessings, if God has blessed you with these different skills and talent, you've got to help, got to give back." Cyrille commented, noting the values her parents instilled in her.
Cyrille found it easy to stay involved while attending Carnegie Mellon. Among numerous other activities, she particularly remembers the satisfaction of raising thousands of dollars to buy almost 200 badly needed textbooks for a struggling inner-city Pittsburgh school. She helped raise these funds as a leader in Spirit, a campus organization promoting African-American awareness.
"Carnegie Mellon is open to you making your way," Cyrille said, crediting the culture of the university. "If you see there's a need, you can make something happen. All the students are told and encouraged, 'If you want to do something and it's not getting done, then you can do it here at Carnegie Mellon."
Cyrille learned other valuable skills at the university.
"Carnegie Mellon helped me achieve a lot by, first, developing my leadership skills — because I received many different leadership opportunities. It also taught me how to 'go and find out what you need to find out' to succeed," she said. Cyrille is working hard to pass those skills on to others.
Related Links: IT'S TIME Website  |  Mellon College of Science
---