Welcome Back!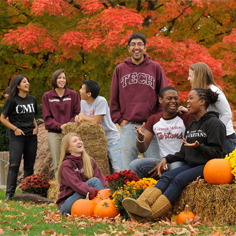 Carnegie Mellon University welcomes its alumni home to Pittsburgh this week as they explore changes to the campus landscape, reconnect with classmates and friends, enjoy familiar traditions — and perhaps even start a few new ones.
Among the alumni award recipients during this 40th anniversary year of the moon landing is William "Red" L. Whittaker (E'75,'79) — a world-renowned robotics pioneer who is busy working on his own moon-related mission.
A ceremony honoring Whittaker and other distinguished faculty, alumni and students takes place at 5:30 p.m. on Friday, Oct. 30. (Read about this year's Alumni Award recipients.)
Following this ceremony, President Jared L. Cohon will preside over the dedication of the Randy Pausch Memorial Bridge — a 230-foot-long pedestrian bridge spanning a hollow between the new Gates Center for Computer Science and the Purnell Center for the Arts.
The bridge will be a physical connection between the School of Computer Science's new building and the School of Drama's home, much as Pausch was an inspirational and intellectual connection between computer science and the arts. (More information)
Other activities occurring throughout the weekend include:
Scotch 'n' Soda Theatre Carnegie Mellon's student theater group will perform "The Mystery of Edwin Drood" in McConomy Auditorium. (Get tickets. Check show times.)
Buggy Freerolls Watch the Carnegie Mellon tradition on Tech and Frew Streets.
Jazz Vocal Ensemble Performance Enjoy a performance by the Carnegie Mellon Jazz Vocal Ensemble while they sing popular hits and jazz favorites under the direction of Thomas W. Douglas.
Industrial Design 75th Anniversary Celebrate 75 years in Industrial Design with an expo featuring past, present and future of the program.
Botanicals: Environmental Expressions in Art The Alisa & Isaac M. Sutton Collection Hunt Institute for Botanical Documentation, 5th Floor, Hunt Library. The exhibition represents one of the finest private collections of contemporary botanical art in America.
KidZone Haunted Activity Fair Arts, crafts and ghoulish snacks will delight — open to ghosts and goblins of all ages.
Regina Gouger Miller Gallery Exhibitions "29 Chains to the Moon: Artists' Schemes for a Fantastic Future Experimental Geography."
Research Initiatives The University Center's Kirr Commons will feature an inside look at some of the university's most groundbreaking research initiatives. Join students and faculty as they explain their work and its potential impact.
Volunteer Opportunities Fair Talk with current volunteers and staff about the variety of ways one can volunteer for Carnegie Mellon.
And much more. Visit the Homecoming website for more details.
Related Links: Weekend Highlights  |  Schedule  |  Alumni Awards  |  Student Homecoming
---