Homecoming Weekend 2008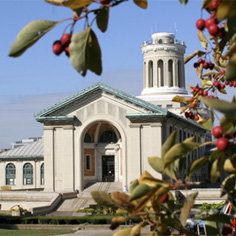 Alumni from all over the world have returned to Carnegie Mellon University to reconnect with friends and classmates while enjoying a weekend full of memorable events during Homecoming Weekend Oct. 23-26.
"Homecoming 2008 is truly a weekend not to be missed as the entire Carnegie Mellon community — students, faculty, alumni, parents and friends — comes together to celebrate this great university and look forward to our future and what we can bring to it," said Judith M. Cole, associate vice president for University Advancement and director of Alumni Relations.
The Alumni Awards Ceremony — honoring outstanding contributions by alumni, faculty and students — is open to all who wish to attend. It begins at 5:30 p.m. in the Rangos Ballroom at University Center.
After the awards ceremony, be sure to stroll over to the College of Fine Arts Lawn and enjoy live entertainment featuring members of our own Carnegie Mellon community at "Celebrate Our Future: Carnegie Mellon's Campaign Kick-off" event.
Additional events occur throughout the weekend, including:
Scotch'n'Soda's presentation of "The Visit" by Friedrich Dürrenmatt, adapted by Maurice Valency and directed by Daniel Dewey (CS '09) and Jackie Bernard (CMU '10). Tickets are $1 with a Carnegie Mellon ID and $5 without. (More information.)
The School of Music presents "Coronation of Poppea" in which the goddesses of Fortune, Virtue and Love test their relative strengths in Claudio Monteverdi's mid-seventeenth century operatic masterpiece. (More information: 412-268-2383.)
The Field Robotics Center celebrates its 25th Anniversary — and Red Whittaker's 60th birthday — on Oct. 24-25. Speakers will include the most prominent leaders in field robotics from the United States, Australia, Japan and Europe. (More information.)
Carnegie Mellon Tartans vs. Wittenberg University Tigers at Gesling Stadium. $5 admission (free with Homecoming nametag). Free concessions provided by the Alumni Association. This game will be videotaped for a later broadcast on ESPNU.
On Tech and Frew Streets: Buggy Freerolls and a Buggy Alumni Association Coffee Table on Sat., Oct. 25, from 7-9 a.m. And in the Singleton Room at Roberts Engineering Hall, a SPIRIT Buggy breakfast from 8:30-9:30 a.m.
"The Last Lecture" Alumni Book Discussion: Sat. 4-5 p.m. Sponsored by the Class of 1968, Room 2315, Doherty Hall. All alumni are welcome to hear Jeffrey L. Zaslow (HS '80) talk about his experience as co-author of "The Last Lecture." A limited book signing will follow the presentation.
Dancing Through the Decades: Sat. night at 9 p.m. in Wiegand Gym, University Center. Rediscover Hollywood and all the glamour and excitement that is a part of it at this fun-filled evening for alumni and students. Come as you are to dance and be entertained! (More information on student homecoming events.)
Women's Soccer, Carnegie Mellon Tartans vs. Mount Union Raiders, Sunday at 1 p.m. at Gesling Stadium.
All-Campus Tailgate Lunch on Sat. Oct. 25 from noon to 2 p.m. at Wiegand Gym, University Center & University Center Parking Lot.
Related Links: Schedule of Homecoming Weekend Events  |  Alumni Award Recipients  |  Student Homecoming  |  Scotch'n'Soda  |  Field Robotics 25th Anniversary
---