Navigating Toward Success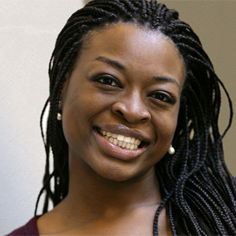 Betty Mbom's parents always told her, "If you think there's something that needs to be changed, don't wait for someone else to do it." So, in 2007, the Carnegie Mellon senior worked with Rea Freeland, associate dean for special projects at the Mellon College of Science (MCS); Eric Grotzinger, associate dean, MCS; and Ty Walton, director of Carnegie Mellon Advising Resource Center (CMARC) to start "COMPASS" — a mentoring program for minority freshmen at Carnegie Mellon.
COMPASS — short for Coaching Minority Progress and Academic Success in Science — provides students with mentors, informs them about Carnegie Mellon resources and gives them opportunities to get to know one another. Participants have reported such a positive impact on their college experience that other colleges at Carnegie Mellon are contemplating adopting the program.
"I am very excited that the other colleges recognize the success of the program and are considering implementation for next year," said Mbom. "Programs like COMPASS make the transition into a rigorous environment such as Carnegie Mellon easier and allow students to immediately identify all the resources that are available to them."
The Howard Hughes Medical Institute recently announced that Mbom has been named one of five recipients of the prestigious Gilliam Fellowships for Advanced Study. The fellowship will fully support up to five years of doctoral studies.
She plans to pursue a doctorate in cell biology and hopes to study cell cycle regulation.
"I have a strong interest in analyzing such cellular mechanisms, which can lead to further insights into functional alterations and disease states," she said.
Mbom is a mentor for students in local schools and has volunteered as a judge for science fairs. She has also spent time organizing disaster relief work during college breaks in Mexico and New Orleans.
She has always felt that it is important to give back, and that it's never too early.
"We receive a distinct preparation at Carnegie Mellon and our talents should also be used to help others." She added, "I am very passionate about this because of the impact that various mentors have had on me, simply because they cared."
The importance of education remains a strong refrain in Mbom's life: her career plans include becoming a professor. Mbom hopes that when minority students see her teaching in the classroom, they will know that their career aspirations are possible.
She also hopes to expand COMPASS into a national organization to guide minority students who aim for research careers — and help younger students see the wonder and fun of science.
Related Links: Read More  |  Dept of Biological Sciences  |  Mellon College of Science
---