Shaping Tomorrow's Leaders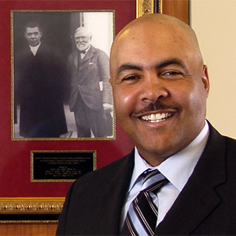 Russell T. Crockett Jr., a 1987 graduate of Carnegie Mellon's chemical engineering program, recently returned to campus as keynote speaker at CMARC's annual "Shaping Tomorrow's Leaders" retreat for students.
Formerly vice president, chemical sales for Lyondell — one of the world's largest chemical companies — Crockett told the students that the Carnegie Mellon Advising Resource Center (CMARC) and a Carnegie Mellon education played crucial roles in his success by cultivating his confidence, curiosity and competitive spirit.
CMARC serves as an advising and information center connecting students to the communities, services and opportunities that will help maximize their educational experience.
Through the many avenues of support provided by the center, Crockett said he gained the confidence he needed to go forward. And now, he's giving something back — by speaking to students and also by establishing the CMAP Legacy Diversity Scholarship fund with a $50,000 donation. The fund will support educational diversity at the university, consistent with the university's mission and admissions policy.
"The Carnegie Mellon experience has been so valuable and has opened so many doors for me over the last 20 years, I have no choice but to give something back," explained Crockett, who brought his wife and two sons with him on his visit.
While Crockett met with university officials, his family toured campus and visited labs and facilities in the College of Engineering. Crockett later joined them for a performance of "The Piano Lesson" by August Wilson in the Chosky Theater.
"When I tell people I went to Carnegie Mellon, it stops them in their tracks," he explained. "It tells people you've been through an exceptional experience."
Crockett established the scholarship fund to honor and support the legacy of the Carnegie Mellon Action Project and the efforts of Dr. Norman Johnson, Dr. Marion Oliver and others like them who were instrumental in strengthening diversity at the university.
"If alums are reading this story, I want them to stop and think about the doors that opened for them because they graduated from Carnegie Mellon," Crockett said. "And if they have it in their spirit to want to give back, to do just that."
Related Links: CMARC  |  Dept of Chemical Engineering  |  Diversity Resource Guide
---