Scientists & Developers Unite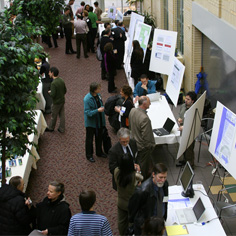 Learning scientists and open educational resource (OER) developers recently convened at Carnegie Mellon for a symposium called Opening Learning Interplay.
Hosted by Carnegie Mellon's Open Learning Initiative (OLI), this symposium provided an opportunity for participants to share a broad range of perspectives on the nature of learning, explore how to apply results from the learning sciences to OER design and to identify new research areas.
"Both the learning-science and OER-developer communities have valuable resources that can benefit each other," said former OLI Director Candace Thille.
Carnegie Mellon's OLI is a leader in the field of open educational resources, which are teaching and learning resources that are freely available on the web. Since 2002, OLI has developed freely available scientifically based, online courses in fields ranging from chemistry to French.
"Interplay brought expertise from both groups to create the next evolution in developing and delivering effective open educational resources," Thille added.
Sponsored by The William and Flora Hewlett Foundation and the Pittsburgh Science of Learning Center, the symposium was the outcome of a year-long process that included a series of three small workshop-style multi-day meetings. The meetings provided an opportunity for leading thinkers and researchers in the learning sciences field to interact with open educational resource developers.
Speakers at the symposium included many notable learning scientists such as Marlene Scardamalia and Alan Schoenfeld and OER experts Catherine Casserly and John Seeley Brown.
Through the OLI project, Carnegie Mellon is working to help the World Wide Web make good on its promise of widely accessible and effective online education.
OLI grew out of collaboration among cognitive scientists, experts in human computer interaction and seasoned faculty who have both a deep expertise in their respective fields and a strong commitment to excellence in higher education.
The project adds to online education the crucial elements of instructional design grounded in cognitive theory, formative evaluation for students and faculty, and iterative course improvement based on empirical evidence.
Related Links: Open Learning Initiative  |  Watch Symposium Videos  |  Request More Info
---