A Celebration of Student Research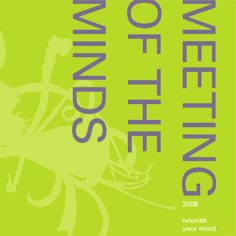 Meeting of the Minds, Carnegie Mellon's annual research symposium in Pittsburgh, is being held in the University Center May 7 from 10 a.m. to 5 p.m.
Sponsored by the Office of Undergraduate Research (URO), the event hosts more than 400 students who present their research through posters, oral presentations, DVDs, live performances, demonstrations and art installations.
"Nothing really captures the mission of Carnegie Mellon better than research — and nothing better expresses the diverse ways our campus engages in research across the disciplines than Meeting of the Minds," said URO Director Stephanie Wallach. "It is a unique Carnegie Mellon tradition."
The undergraduate research presented at Meeting of the Minds includes students who have received funding through the URO's Small Undergraduate Research Grants (SURG) and through summer fellowships, which allow students to partake in full-time research over the summer.
Meeting of the Minds also includes senior thesis presenters and individual projects. Disciplines across the campus are represented.
Peter Lee, professor and head of the Department of Computer Science will address the audience at 2:30 p.m. and a drawing will be held for symposium students to win prizes. At the 5 p.m. awards ceremony,  winners will be announced in 18 categories, many sponsored by industry and individual donors.
Carnegie Mellon students and alumni are known for the many contributions they make to society, whether it is in the laboratory, on film or in the studio. Meeting of the Minds is an opportunity for all members of our campus community to see firsthand the many ways students at Carnegie Mellon are changing our world.
"Meeting of the Minds is an amazing opportunity, not only for students to present their research, but for the entire Carnegie Mellon community to see the quality of research conducted by our undergraduates," said Jen Weidenhof, assistant to the director of URO. "It makes you proud to be at Carnegie Mellon."
Related Links: Office of Undergraduate Research  |  Research at Carnegie Mellon
---