Friendly Competition Encourages Waste Reduction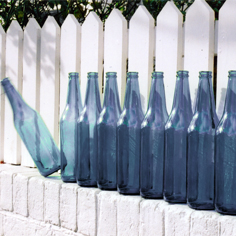 RecycleMania 2007 is underway and the competition is fierce. With more than 200 universities participating, it's anybody's guess as to who will claim victory.
"RecycleMania is a great way for everyone in the campus community to become personally involved in our quest to establish Carnegie Mellon as a practical model for other universities," said Melissa Cicozi, chair of the marketing and communications subcommittee for Carnegie Mellon's Green Practices Committee.
For 10 weeks each year, schools and colleges across the country compete to see which institution can collect the most recyclables and the least amount of trash per capita.
The primary goal of the event is to increase student awareness about campus recycling and waste minimization. All participating schools are required to report measurements on a weekly basis in pounds.
RecycleMania began in February 2001 when Ed Newman (Ohio University) and Stacy Edmonds Wheeler (Miami University) decided that something had to be done to increase recycling in the residence and dining halls on their campuses. The two schools went head-to-head to see which could recycle the most, with Miami University winning.
Last year, 93 colleges and universities participated in four categories of competition to see who had: the largest amount of recyclables per capita, the largest amount of total recyclables, the least amount of trash per capita and the highest recycling rate.
Related Links: RecycleManiacs  |  Green Practices
---