Cultivating Student Scientists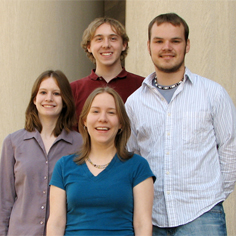 While only 317 Barry M. Goldwater scholarships were handed out to natural science students this year, every one of Carnegie Mellon's nominees — Gregory A. Newby, Samantha N. Spath, Jonathan M. Stahlman and Lauren M. Thorpe — was honored with a prize.
The feat puts Carnegie Mellon in the company of just seven institutions nationwide to receive the maximum number of four awards per year.
"I am delighted that all four of our nominees received this prestigious honor. This is a great testament to our ability to cultivate student scientists," said Eric Grotzinger, associate dean for undergraduate affairs at Mellon College of Science and teaching professor in biology.
A sophomore from Penn Hills, Pa., Newby is majoring in biological sciences. He is conducting research on viruses that infect bacteria — work that could ultimately assist in developing antibacterial drugs. Newby plans to one day conduct research in cell biology and drug development, creating methods to prevent and cure viral disease.
Spath, a junior biological sciences major from Sterling Heights, Mich., conducts genetic research on how sea urchin embryos form skeletons. Her goal is to conduct research on human disease and teach at a university. Spath is also a 2006 Beckman Scholar.    
Stahlman, a junior from Clarion, Pa., is majoring in physics. He plans to pursue a Ph.D. in physics and research alternative energy sources at either a national laboratory or within private industry.
Thorpe, a junior Science and Humanities Scholar from State College, Pa., is majoring in biological sciences. Last summer, she conducted research on the hepatitis C virus and, this year, is researching genetic pathways common to cell development and colon cancer.
Goldwater Scholars receive one- and two-year scholarships — of up to a maximum of $7,500 per year — that help cover the costs oftuition, fees, books, and room and board. The scholarships are also a stepping-stone for future support for their research careers, according to the foundation.
The Barry M. Goldwater Scholarship and Excellence in Education Foundation was created to encourage outstanding students to pursue careers in mathematics, the natural sciences, or engineering, and to foster excellence in those fields.  
Photo (clockwise from left): Samantha Spath, Greg Newby, Jonathan Stahlman, and Lauren Thorpe 

Related Links: Goldwater Program  |  Mellon College of Science
---