Revolutionizing Computer Science Education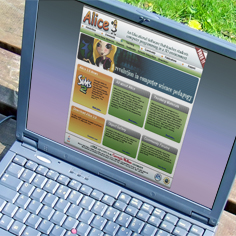 With Alice — educational software that teaches students computer programming in a 3D environment — Carnegie Mellon is revolutionizing computer science and working to reverse a waning interest in the field. Alice 3.0 is currently in development and will integrate the programming tool with characters from Electronic Arts' hit video game, The Sims™2.
"Alice is a system to try to get people's first exposure to learning how to program a computer to be a pleasant one," said Carnegie Mellon Professor Randy Pausch, creator of Alice and co-founder of Carnegie Mellon's Entertainment Technology Center. "We have got a system where students can make small 3D animated movies and/or 3D video games, and they do that by dragging words around on a screen so they can't make a mistake."  
A recent nationwide survey conducted by the Higher Education Research Institute at UCLA showed that incoming computer science majors declined more than 60 percent from 2000 to 2004. And among female students, interest in computer science declined 80 percent between 1998 and 2004.
But Professor Wanda Dann, an active member of the Alice team for the last decade who recently assumed leadership of the team, has witnessed a difference when students discover Alice.
"Girls, especially, really enjoy the storytelling aspect of Alice," said Dann. "We are very hopeful that this will make a difference in attracting more young women to the field." 
Alan Apt, education manager for the Association for Computing Machinery, has been looking for many years for something that could get a broader audience excited about computer science. "And when I saw Alice I thought, this is something that can fundamentally change the way that computer science is taught," he said.
Don Slater, a lecturer in the Carnegie Mellon's Department of Computer Science, shares Apt's confidence in the program. Slater added, "Alice is a tool that's really going to grab kids' attention and — properly used — can really help them understand some very key ideas in a way that is intuitive and engaging and motivating."
Related Links: Alice  |  What is Alice? [VIDEO]  |  Download Alice 2.0  |  Randy Pausch Lecture [VIDEO]  |  School of Computer Science
---