Randy Pausch's Lecture on Achieving Your Childhood Dreams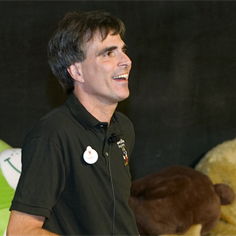 With equal parts humor and heart, Carnegie Mellon Professor Randy Pausch recently delivered a one-of-a-kind last lecture that first moved an overflow crowd on campus — and is now moving audiences around the globe. 
In his lecture entitled "Really Achieving Your Childhood Dreams," Pausch first introduces the elephant in the room: he has terminal cancer.
What follows is an inspiring journey through his childhood dreams to groundbreaking achievements he made working with students and colleagues here at Carnegie Mellon University.
Co-founder of Carnegie Mellon's Entertainment Technology Center and creator of the Alice, a revolutionary way to teach computer programming to first time students, Pausch shares the lessons he's learned that helped him turn his childhood dreams into reality.
"Almost all of us have childhood dreams; for example, being an astronaut, or making movies or video games for a living," said Pausch. "Sadly, most people don't achieve theirs, and I think that's a shame."
Pausch says he had several specific childhood dreams and has actually achieved most of them — from floating in zero gravity to winning stuffed animals to being a Disney Imagineer.
Some of the things Pausch suggests to keep in mind if you want to live the life of your dreams:
Bring something to the table; you'll be more welcomed;
The brick walls are there to show you how badly you want something;
Wait long enough and people will surprise and impress you; and
Don't bail; the best of the gold is at the bottom of the barrels of crap.
One of Pausch's dreams was to play football in the NFL. He says not achieving that particular dream put him where he is today — fulfilling the dream of helping people.
The newest version of Alice — Alice 3.0 — features characters from The Sims™,  one of the best-selling PC video games of all time created by Electronic Arts.
"I, like Moses, get to see the Promised Land but I won't get to set foot in it, and that's okay," said Pausch, "because I can see it and the vision is clear-millions of kids having fun while learning something hard."
He assured the audience, "I can deal with that as a legacy."
Since the lecture, Pausch has moved audiences outside the lecture hall, retelling his story in several national newspapers and on Good Morning America, CBS Evening News and the Oprah Winfrey Show.
Related Links: Watch the Lecture  |  Order a DVD  |  Honorary Fund  |  Alice  |  ETC  |  More
---