Historic Gift to Support Carnegie Mellon's Life Sciences Initiatives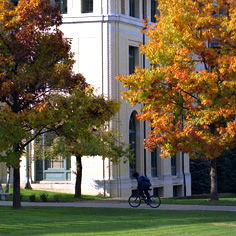 Supporting Carnegie Mellon's groundbreaking work in life science initiatives, the Richard King Mellon Foundation has given Carnegie Mellon a $25 million grant − representing the largest private foundation grant in the university's history.
"We are deeply honored and profoundly grateful for this gift from the Richard King Mellon Foundation. This grant represents a powerful vote of confidence in Carnegie Mellon and a major investment in the future of our region," said Carnegie Mellon President Jared L. Cohon.
He added, "This magnificent grant is the latest in a series of bold and visionary commitments to our university by the foundation and its founders. One of the first was a gift in 1964 from Richard King and Constance Mellon to our nascent Computer Science Department — a program that is now the nucleus of our world leading School of Computer Science."
The grant creates a Life Sciences Competitiveness Fund, which supports the hiring of faculty, construction of new labs and significant student support. By establishing a Presidential Scholars Fund, the grant will support graduate students focusing on the life sciences fields, such as computational biology, medical robotics and biomedical engineering.
"The Trustees of the Richard King Mellon Foundation are very proud of the longstanding relationship with Carnegie Mellon University," said Chairman Richard P. Mellon. "This grant will build upon the region's growing body of knowledge in the life sciences arena."
Seward Prosser Mellon, president and CEO of the foundation, indicated that "the building of advanced facilities and attracting and supporting the most talented graduate students in life sciences helps position the region to be competitive nationally."
The grant will help expand Carnegie Mellon's leadership role in the life sciences, including these areas of study:
Medical robotics research. The university and its partners are creating healthcare technologies that provide greater independence to older adults and people with disabilities. In 2006, Carnegie Mellon and the University of Pittsburgh received a five-year, $15 million grant from the National Science Foundation to establish the Quality of Life Technology Engineering Research Center for research in this field.
Computational biology. The Carnegie Mellon doctoral program in computational biology − offered with the University of Pittsburgh − offers scientists access to powerful computing tools and vast information databases on subjects such as the human genome and cancer. The university recently received a $5 million gift from Ray and Stephanie Lane to establish a research center and professorship in computational biology.
Computational neuroscience. University researchers play key roles in the work to reveal fundamental aspects of the human brain during learning, behavior and disease. Many of their discoveries lead to better understanding of the way the human brain operates and new treatment considerations for diseases.
Biosensor chemistry. A recent $13.3 million, multi-institutional grant from the National Institutes of Health also offers Carnegie Mellon scientists the chance to build on their pioneering work in this field. Carnegie Mellon's Molecular Biosensor and Imaging Center has advanced the discovery of molecular probes to explore cell activities in real-time − research that ultimately will help identify disease-causing proteins and possibly lead to new drugs for treatment. University engineers and scientists also are developing a Center for Implantable Biosensors to conduct research that will eventually enable physicians to monitor patient healing or the ways that cells interact in the face of disease.
Related Links: Richard King Mellon Foundation  |  Enhancing Quality of Life  |  Finding a Cure
---