NCAA Honors Two Graduates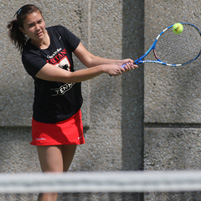 Katie Cecil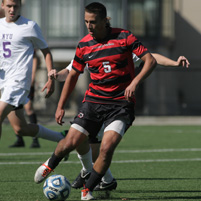 Matt Sarett
Matt Sarett (E'14), a former midfielder on Carnegie Mellon University's men's soccer team, and tennis player Katie Cecil (S'14) know how to work hard on and off the field and court.

The NCAA recognized their efforts with postgraduate scholarships.

"I feel fortunate that CMU provided me with the opportunity to learn in a great academic environment while also being a part of a very strong and competitive athletic program," Sarett said. "The athletic department understands the rigors of academics at CMU and is very supportive of athletes taking the time to be successful in the classroom."

Cecil agreed.

"My professors and coaches were always understanding that I wasn't just a student or an athlete," Cecil said. "I really enjoyed both the academics and tennis at CMU, so juggling between the two of them was a fun challenge for me."

The $7,500 scholarship is given to student-athletes who excel academically and athletically and who are in their final year of intercollegiate athletics competition. Sarett graduated this spring with a double major in electrical and computer engineering and biomedical engineering. He is returning this fall to complete the Integrated Master's/Bachelor's Program for Electrical and Computer Engineering. This summer, he is interning at Google.

"I am not really sure where I want to work full time yet, but I think that I will have a lot of great options," he said. "I plan to apply for jobs this fall. I am also considering pursuing a Ph.D."

Sarett chose CMU because of the strength of the soccer program and the College of Engineering.

"CMU's engineering program has a very strong reputation and I wanted to be a part of it," he said.

Cecil, who graduated with a major in biological sciences from the Mellon College of Science, is working full time as a research assistant in the Neurological Institute of the Cleveland Clinic working primarily on stroke research in the neurological intensive care unit. She is applying to medical schools.

"Being on the team was perhaps my most important experience at CMU," she said. "It was an honor to be able to represent Carnegie Mellon at the national level while having fun playing tennis with my closest friends."

Sarett and Cecil were among the 58 CMU student-athletes this spring who earned 4.0 grade-point averages. Both graduated with cumulative 4.0 GPAs.

Athletics Director Josh Centor calls the number of student-athletes with 4.0 GPAs remarkable.

"Our student-athletes are achieving at a remarkably high rate, both athletically and academically. While we talk about excellence in all realms often, it is gratifying to see our men and women performing the way they do on the fields of play and in the classrooms," Centor said.
He said the combination of academics and athletics at CMU is excellent.

"Carnegie Mellon is a community that both embraces and nurtures hard work and commitment," Centor said. "We are proud of Matt, Katie and the more than 400 student-athletes that represent our university. They are following their dreams and we have the privilege of cheering them on each and every step of the way."
Related Links: Matt Sarett | Scholarly Athletes | Three Tartans Elected to Prestigious Academic Honor Society | Top of Her Game
---