In His Genes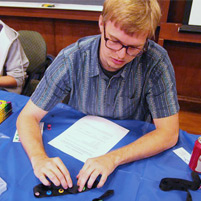 Taylor Canady is not someone who can sit idly by while kids struggle to learn science.

The Carnegie Mellon University doctoral student in chemistry, who thinks learning science should be fun, created a kit for teaching K-12 students about DNA.

"In the community I grew up in, I saw so many students not just uninterested in studying science, technology, engineering and math but uncomfortable even walking into those environments," Canady said. "I want to change that. I want to give kids opportunities like the ones I have been given."

Canady's work at CMU is centered on developing solutions to problems in molecular biology. He offers science demonstrations to K-12 students through DNAZone, the outreach program of the university's Center for Nucleic Acids Science and Technology at CMU.

"Science isn't just for people with high IQs. Science is about thinking and asking questions," Canady said. "How can I improve agriculture? How can I help people who are hard of hearing or who have Alzheimer's disease? Any number of situations have the potential to put a fire in somebody to want to learn more for the purpose of making an impact."

He added, "I want kids to know that no matter what their circumstances are, they can become scientists."

DNA, the molecule that encodes the genetic information in all living organisms, can store and transmit information through its nucleobases. Teaching school-age children how DNA works is challenging because DNA cannot be seen directly.

"Taylor has found a way to translate the DNA molecule into a physical model that the children can handle and play with," said chemistry professor Catalina Achim, a DNAZone coordinator.

In the model, ribbons represent the DNA backbone and Velcro represents the chemical connection between the backbone and the DNA nucleobases. The Velcro holds together pairs of buttons or magnets, which represent nucleobase pairs.

"With Taylor's model, children can write a DNA sequence by attaching buttons and magnets to the ribbon with the Velcro. They can then transcribe on another ribbon the complementary DNA sequence based on simple rules that coincide with those applicable to real DNA in a cell," Achim said.

Students also can use the kit to learn how a base-pair mismatch causes destabilization which, in the real cellular world, can lead to disease.

The models are popular with teachers and students, and he recently won a Carnegie Science Award, which recognizes outstanding science and technology achievements in western Pennsylvania.

Prior to joining CMU's Ph.D. program, Canady co-authored two publications and gave several research presentations at national and regional conferences, a notable and uncommon achievement for an undergraduate student, according to Achim.  

"Taylor is on his way to becoming a very good scientist and a great and responsible citizen capable of making a positive impact on the world," she said.

Canady said Achim was influential in the development of the DNA kits.

"I didn't want to just passively volunteer. Catalina has been very interested in seeing me evolve into someone who is effective," he said. "She looked at my very crude blueprints and really made me think about how to optimize the kit and maximize the students' learning with it."

Canady also received terrific input from chemistry professor Bruce Armitage.

"Bruce basically pointed out that, look, if you do this right, you can get them thinking beyond your project," he said.

Canady is exploring how to manufacture and distribute the kit through CMU's Project Olympus, which helps students and faculty explore the commercial potential of their ideas.
Related Links: Mellon College of Science | Department of Chemistry | Read press release
---