Absorbing Information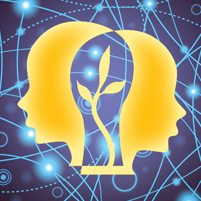 They can't spell neuroscience, yet your kindergartner helps you work your new phone and your toddler translates conversation for his French grandmother — how? Carnegie Mellon University's Sandra Kuhlman and her colleagues are on the way to finding out.

Neuroscientists have long been striving to understand how the brain's microcircuitry makes learning easier for the young. Kuhlman and researchers from the University of California, Los Angeles and the University of California, Irvine have uncovered surprising behavior by key brain cells.

Networks of two types of brain cells — inhibitory and excitatory neurons — are responsible for processing sensory information and cognitive functioning.

"We knew from previous studies that excitatory cells propagate information." explained Kuhlman, CMU assistant professor of biological sciences and member of the joint CMU/University of Pittsburgh Center for the Neural Basis of Cognition (CNBC). 

"We also knew that inhibitory neurons played a critical role but had been unable to study them with traditional methods," she added. "Ideas about what exactly those cells were doing were controversial."

Researchers speculated that as these neurons matured, they fostered optimal learning in the young. But as the neurons continued to age, it was believed that they became even stronger and increased their activity to the point where they began to impede learning.

By labling inhibitory neurons with fluorescent tags  and using state-of-the-art multiphoton laser-scanning microscopy, Kuhlman and the team were able to visualize brain circuit changes that occur in mice as they learn.

They found that during heightened periods of learning, inhibitory neurons did not fire more, as expected. They fired less — up to half as often.

"When you're young, you haven't experienced much, so your brain needs to be a sponge that soaks up all types of information," Kuhlman observed. "It seems that the brain turns off the inhibitory cells in order to allow this to happen."

Kuhlman joined the CMU faculty last year from a postdoctoral research position at the University of California, Los Angeles, eager to continue her work toward understanding the brain's circuitry with regard to learning during its development.

She'd been fascinated with sensory capabilities since her days as a child in New England, pondering the ocean creatures and their amazing abilities, such as electrical sensation. As an adult researcher, she hopes to further the design of therapeutic treatments for children with learning deficits due to neurodevelopmental disease.

And she's excited to be undertaking this at CMU.

"Our work is multidisciplinary," said Kuhlman. "I look forward to collaborating with CMU biologists and systems neuroscientists in the CNBC to harness the molecular tools being developed at CMU's Molecular Biosensors and Imaging Center to address questions of perceptual learning."

So what about that smart phone?

"Learning is different in adults," noted Kuhlman, "but we believe we're able to activate the 'disinihibition' — turn off inhibitory cells — using a different route so that adults can increase their learning."


CMU is kicking off its yearlong "Crossing Boundaries, Transforming Lives" symposia with a discussion on brain research and its impact Sept. 28 from 10:45 a.m. – 12:15 p.m. in McConomy Auditorium, University Center. Topics will include what role CMU and Pittsburgh can play in President Obama's federal BRAIN Initiative and what new technologies and computational approaches we can help to create to improve our understanding of the brain.

The symposia celebrates Dr. Subra Suresh's inaugural year as the university's ninth president.

For more information on brain and mind research at Carnegie Mellon, visit our Brain, Mind & Learning site.
Related Links: Read press release | Mellon College of Science | Center for the Neural Basis of Cognition | Molecular Biosensors and Imaging Center | Dept of Biological Sciences | Brain, Mind & Learning
---