Patient Safety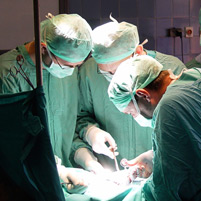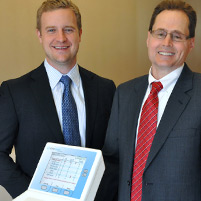 Steven Fleck (l) and David Palmer (r)
Truth is x-rays can lie.

X-rays and manual counting are the methods used today for keeping track of surgical sponges during surgery. But the retained surgical sponge is an error that occurs over 4,000 times annually in the United States.

A Pittsburgh startup company founded by graduates of Carnegie Mellon University is reducing that risk in the operating room. How?

By offering a technology that counts and detects surgical sponges, similar to a bar code on your grocery store items.

The company is called ClearCount Medical Solutions. Its first product line patented and cleared by the FDA is the SmartSponge System, which uses radiofrequency identification (RFID) technology to improve safety and efficiency in healthcare.  

Growing up in Pittsburgh, ClearCount co-founder Steve Fleck (TPR'04) was well aware of CMU's reputation as a prestigious university.

When the entrepreneurial urge overcame him, he decided the university's MBA program was a perfect fit. 

"The school is known for its strong quantitative program, which was great for me. And the entrepreneurship curriculum was great for honing the skills you need to start your own business."

Fleck says he had a number of professors at the Tepper School who made a lasting impact. 

"Without a doubt, it was definitely the relationships formed outside of class that made all the difference. By far, the best example of this is my relationship with Professor Art Boni," he explained.

"Art was truly integral to the early success of ClearCount through his mentoring and support. It was  incredible as a first-time entrepreneur to have someone with Art's experience in my corner," he added.

"Even today after all I've learned and experienced through the years at ClearCount, I still consider Art a great mentor and a friend."

Around ClearCount's second year of operations, Fleck met CMU alum David Palmer (HNZ'92) in his role as Chief Operating Officer at the Pittsburgh Life Sciences Greenhouse (PLSG). 

ClearCount had received funding from PLSG. When conversations stirred about ramping up operations and bringing additional talent on board, Palmer was the first person they thought of.

"I felt the company had a great product and great people associated with it," said Palmer.

Fleck and Palmer both have strong family ties to Pittsburgh. Turns out they grew up less than a mile apart and shared a number of mutual acquaintances.

"For me, the close ties to CMU and early support I received from the university were great reasons to stay in Pittsburgh ," Fleck said. "There are literally dozens of other organizations that fund and support early-stage business in Pittsburgh, making it one of the best places in the country to start a company. Additionally, we have two of the top universities in the country which provide all sorts of opportunities for research and collaboration."

Palmer puts it a little differently.

"When people from outside of Pittsburgh ask me 'Why would you want to start a company in Pittsburgh,' I always answer, 'Why wouldn't you want to start a company in Pittsburgh?'"
Related Links: ClearCount.com | Greenlighting Startups | Tepper School of Business
---