Setting the Bar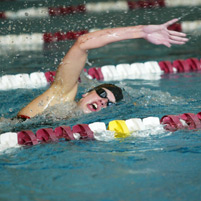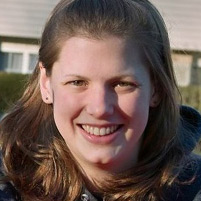 Molly Evans is leaving Carnegie Mellon University as a swimmer decorated with nine individual school records and four relay records with 11 All-American honors.
She's also a decorated scholar.
Graduating this spring with a degree in Biological Sciences, she's worked on RNA biochemistry projects in the Chemistry Department as a full-time researcher. She's also one of three recipients of the 2011 Carnegie Mellon Women's Association Scholarship.
Her success in the water started the minute she jumped into the university swimming pool.
With Evans' first career meet, she broke the 200-yard backstroke record. Then, she broke five other records that year on her way to a second-place national finish.
"I've always liked the 200 backstroke," Evans said. "My club coach said it was going to be my event, and it turned out to be."
Evans never felt her shoulders would last in the 200-yard butterfly. But this season, she tried it at Kenyon's Total Performance meet and wound up setting the school record.
Head Coach Matt Kinney felt she could swim it at nationals if she wanted, as she also qualified for the championship meet at that time.
Evans chose CMU over other schools as soon as she heard Coach Kinney had been hired.
"I'm glad I ended up here. Matt's a great coach," Evans said.
The program is on the rise, and Evans would like nothing more than for the team to get relays to nationals every year from here on out.
"Molly represents her class and the women's team well in so many areas," Kinney said.
"Her work ethic, her dedication to her teammates, and her knack for racing in season and at championships helped set the bar high for the future of the women's program."
Kinney added, "She was instrumental in attracting new, high level athletes into the women's program over the past four years and became a mentor and role model to many of the younger swimmers."
As for all the records, Evans hopes to return in five years to see new names on the board dressing up the pool walls.
"I'd rather come back and see new records and see lots of people on the All-American banner than see my name next to all those events," Evans said.
"Records are just like goals; a standard to beat. If my records are going to help someone go faster in practice so they can break it, that's all the better."
Evans was just as successful in the classroom, carrying a 4.0 GPA in biological sciences, and earned two ESPN Academic All-America awards sponsored by CoSIDA to date.
Related Links: Athletics | Dept of Biological Sciences | Student Spotlight: Molly Evans
---