Speeding Commercialization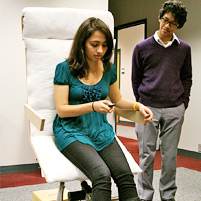 Demonstration of the Lift Chair
A rehab coach for people with knee injuries. An eSeat for office workers. And a lift chair for people with limited mobility.

These are just three of the new technologies developed by students that could soon hit the marketplace and improve people's lives.

And CMU's Quality of Life Technology (QoLT) Foundry is working to make it happen.

"Our objective is to encourage and develop spin-off companies that can serve to establish the Quality of Life Technology Center as the hub of an emerging industry sector in intelligent healthcare devices and personal robotics," said CMU's Curt Stone.

Stone is executive in residence for CMU's Office of the Vice President for Research and director of the QoLT Foundry.    

The QoLT Foundry is the industry arm of the QoLT Center, a National Science Foundation Engineering Research Center jointly run by CMU and the University of Pittsburgh.

While the center focuses on developing intelligent systems that enable older adults and people with disabilities to live more independently, the QoLT Foundry commercializes quality of life technologies for everyone.

"The word Foundry particularly demonstrates Pittsburgh and CMU's impressively strong work ethic, in the sense that we are ready to roll-up-our sleeves and get down to work to take these opportunities to market as quickly as we can," Stone said.

The center holds bi-annual Opportunity Meetings, which feature lively debates on the market challenges for each presented opportunity and provide students — who may go on to lead QoLT companies — with suggested areas for further investigation.

At the October 2011 meeting, three new technologies were presented by Foundry Innovation Interns. Presenting were Michael Haggerson, University of Pittsburgh School of Law; David King, Duquesne University School of Law; Natasha Levin, University of Pittsburgh School of Law & Katz School of Business; Jen Sung, Carnegie Mellon University, double majoring in Economics and Decision Science.
The first — Rehab Coach — was a robotic sleeve for people with knee osteoarthritis, complete with sensors, a motion detector system and software component that provides feedback to the user.

With a low-compliance rate for in-home physical therapy, the technology addresses a critical customer need.Use of the sleeve would mean less supervision, reduced hospital visit costs and less injections and surgeries.

 The second technology presented was the eSeat or Virtual Seating Coach. The chair's unique design — which uses an array of low-cost pressure sensors, paired with tilt encoders and duration monitors that collect data and make adjustments — would promote proper posture for office workers and truck drivers.

The third technology presented was a Lift Chair, which helps users to sit down or stand up. Its innovative design would benefit the elderly, people with balance problems and those recovering from surgery.

The competitively priced chair offers to put the user into an upright, standing position, which current models do not do.

"The QoLT Foundry firmly believes that everyone can benefit from these research-based innovations," Stone said.

"But our focus on commercialization in broader markets is also strategic: as general consumers begin to recognize the appeal inherent in these emerging assistive technologies, we can bring about better economies of scale for those assistive devices that are used by more specific populations. This shift, in turn, should help reduce the reliance on reimbursement models for payment of some healthcare devices."

The QoLT Foundry complements CMU's Greenlighting Startups, a new initiative aimed at accelerating CMU's already impressive record of turning campus innovations into sustainable new businesses. One of the fastest-growing entrepreneurial universities, CMU has helped to create more than 300 companies and 9,000 jobs in the past 15 years. 
Related Links: Greenlighting Startups | QoLT Lab
---