Meet Popchilla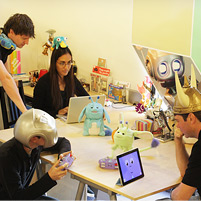 When Seema Patel was a kid, she loved Disney World — especially the Pirates of the Caribbean ride.

"Those expressive robotic humans captivated my imagination and were ultimately what sparked my passion for a career in robotics," said Patel who is now the CEO of Interbots, a Pittsburgh startup specializing in the design of custom interactive characters, control software and interactive multimedia content.

The company is a spinoff of Carnegie Mellon University's Entertainment Technology Center, where Patel earned her master's degree and studied under the late professor and CMU alum Randy Pausch.

"With Randy's help, I came full circle. He helped me get an internship at Disney Imagineering where I was protyping new technologies that were going to go into the park. It was my dream job," she said. 

"Knowing that you're making things that have the potential to interact with millions of people is really rewarding. It was a fantastic experience."

While at the ETC, she and her classmates pitched the idea of an interactive robot.

"We built Quasi as a student project, but then there was a really strong response to him by the community," Patel said.

"And we were presented with a decision: should we start a company where we could make more robots like Quasi and put them on the market?"

That they did. Not long after, they took Quasi to a Kidapalooza and something magical happened.

"We were approached by parents who told us their child with autism had just spent fifteen minutes interacting with Quasi," Patel said.

"We were so amazed given the difficulties children with Autism Spectrum Disorders have communicating with people."

Shortly after that, the company came up with the idea of Popchilla.

"Popchilla uses the same technology as Quasi but in an affordable package. Popchilla has the puppeteering ability, emotional expressiveness but with that affordability factor."

In the fall of 2010, Interbots applied for and received a grant from the Sprout Fund for a ten-week pilot study to explore whether or not Popchilla would have the same effect as Quasi in helping to boost the social skills of children with autism.

"We worked with therapists to create an iPad app that allows them to guide Popchilla through activities that practice children's social referencing skills, like focusing on faces, recognizing emotions and mimicking behaviors," Patel explained.

"The results were positive. We're now trying to raise money for a test run of 5,000 robots that we can distribute to parents and therapists in the local Autism community."

Interbots won a first prize of $25,000 for its plan to develop consumer robots that could help boost the social skills of autistic children in the inaugural RoboBowl venture competition held at Carnegie Mellon University in October 2011.

"It's definitely a group effort," said Patel.

"We're all really passionate about using interactive robots to support the educational and creative development of children. It's a really important area and we're excited to be working in it."

Since 2004, CMU has doubled the number of start-up companies created by its faculty and students and now stands as one of the fastest growing entrepreneurial institutions in the United States.

CMU recently introduced Greenlighting Startups, a new initiative aimed at accelerating the university's already impressive record of turning campus innovations into sustainable new businesses.
Related Links: Greenlighting Startups | Interbots | ETC
---