BeSeen for Kids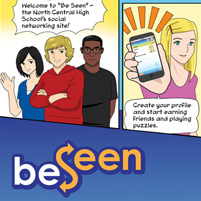 A new mobile app is teaching kids new to social networking how to stay safe online.

Launched by Carnegie Mellon University's Information Networking Institute (INI) and Web Wise Kids, "BeSeen" is a must-have for parents.

They can use it to help their kids understand and learn responsible online behavior.

As many as 7.5 million Facebook users in the United States are under age 13 — a violation of Facebook's user policies — according to a recent study by Consumer Reports.

CMU researchers report that despite Facebook rules, younger kids easily bypass them by simply entering a different year of birth.

"Despite their popularity, social networking websites saddle children with risks to their privacy and personal information, particularly when these sites take bold and sudden actions to share and publicize the data of their users," said Dena Haritos Tsamitis, director of INI and head of education, training and outreach for CMU's CyLab. 

"Our latest collaboration is intended to raise cyberawareness and digital literacy in children before they face risks and to guide them towards being responsible online citizens," she said.

"BeSeen" is a single-player game that simulates a social networking site.

Players create a profile and travel through a condensed school year. And each game day equals a fraction of a minute in real life.

To earn awards, the player must make positive choices when presented with challenging social situations and solve puzzles along the way.

The game is designed to help kids understand responsible online behavior. Players learn how to secure their personal information, protect their privacy, and defend their peers against cyber bullying.

When the INI needed to hire some programmers to help with the project, they sought help from the CMU spin-off Interbots. All are CMU grads and put a lot of effort into the engineering and quality of the final product. (Read more on Greenlighting Startups.)
Developed in collaboration with The Wireless Foundation and Trend Micro Internet Safety for Kids and Family, with additional funding from the Verizon Foundation, the recently updated mobile app is available for free on Apple's iOS.

It is also now available on the AndroidOS.

"The Wireless Foundation is proud to help provide such an important and valuable tool to help children become better aware of the challenges and risks in today's digital world," says Steve Largent, president of The Wireless Foundation and president and CEO of CITA-The Wireless Association.

"The new mobile app presents users with a compelling experience effectively conveys the responsibility children have while utilizing social media, and the possible consequences of inappropriate behavior."

"For more than a decade, we have been developing resources to equip young people to safely be their own first lines of defense when it comes to smart Internet use,'' says  Judi Westburg Warren, president of Web Wise Kids.
"It's never too early to talk to kids about safe online behavior, particularly when accessing social networks," says Lynette Owens, director of Trend Micro Internet Safety for Kids & Families.

"Using the Internet is an important life skill. As parents introduce new technology to their kids, this is another tool they can use to help their kids make good choices."
Related Links: PlayBeSeen.com | Download the App for Apple's iOS | Download the App for AndroidOS | INI | Interbots | Greenlighting Startups
---