Interactive Tool 'Revolutionary'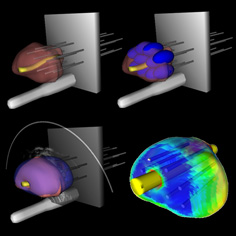 Carnegie Mellon University's Yoed Rabin and Kenji Shimada have received $1.3 million over the next four years from the National Cancer Institute to develop computerized training tools for cryosurgery, which is the destruction of undesired tissue, such as cancerous tumors and organs, by freezing. Minimally invasive cryosurgery, such as prostate cryosurgery, is performed by inserting cryoprobes—in the shape of long hypodermic needles with a cooling tip—into the tumor.
Cryoprobes placement and the following process of freezing are monitored by an imaging technique, such as ultrasound or MRI. Mechanical Engineering Professors Rabin and Shimada are developing an interactive simulator for the entire cryosurgical procedure, combined with a computerized tutor to evaluate the quality of simulated clinical cases.
"This is a revolutionary concept of enhancing surgical training by practicing a virtual cryosurgical procedure," said Rabin, who is leading this project and is an expert in biothermal technology. Rabin has been developing cryosurgical devices, research techniques, and training methods for the past 18 years.
He continued, "While we have already developed rapid computer simulation techniques for cryosurgery and algorithms to help making better cryosurgery planning decisions, the challenge in the current project is to develop an interactive tool, which is capable of evaluating and comparing varying surgical scenarios."
"It is like a video game. With our computerized training system, surgeons will be able to try out various cryoprobe placements without risk, visualize frozen regions with intuitive 3D computer graphics, and benchmark their performance with hundreds of cases stored in a database. It is a motivational and effective way of learning and improving their surgical skills," said Shimada, who is an expert in computational modeling and simulation for product design, engineering analysis, and factory automation.
While the developed computerized training tools are potentially applicable to all cryosurgical procedures, the current project is aimed at prostate cancer. The American Cancer Society estimates that 192,280 new cases of prostate cancer will be diagnosed in the United States in 2009. Prostate cancer is the second leading cause of cancer death in men, exceeded only by lung cancer. One man in 6 will get prostate cancer during his lifetime, and one man in 35 will die of this disease. Minimally invasive cryosurgery is one of the established applications to treat prostate cancer.
"The combination of traditional training techniques with cost-effective computerized training tools can potentially be of high impact on the quality and cost of the cryosurgical treatment and I am committed to its development and integration," concludes Rabin.
Related Links: Dept of Mechanical Engineering  |  College of Engineering
---